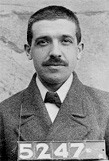 Governments are creating a great fear of an "ageing population" and population decline.  While asylum seekers are shunted off to PNG, there are over 1000 people legally imported into Australia each day - as skilled migrants or under the family reunion scheme – to alleviate our "ageing population".
Our cities and infrastructure are buckling under the heavy weight of population growth, to alleviate our "ageing population"! We have constant "shortages", cut backs and austerity measures due to population pressures.  Young people are at risk from being lost to unemployment, and debt, as our economy lags behind population growth.
Mug shot of Charles Ponzi (March 3, 1882 – January 18, 1949). Charles Ponzi was born in Italy and became known as a swindler for his money scheme.