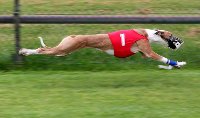 Bled dry - the fate of greyhound racing's 'wastage'
7.30 recently exposed widespread doping in the greyhound racing industry, and since then they've had a huge response.
Greyhound racing is an industry that a lot of people enjoy, but behind it lies a terrible toll on the dogs. There's a massive toll of injured animals. Many exhibit crate and muzzle sores, and stress from high speed chases. Australia's greyhound industry is the third biggest in the world, and each year Australians wager about $3 billion on the sport.
7.30 Report: Bled dry- the fate of greyhound racing's "wastage"
The ABC has received thousands of emails, calls and Facebook posts, some from insiders who've raised more concerns about the industry, others who claim we didn't show the positive aspects of their sport.
ABC: 7.30 report">Bled dry - the fate of greyhound racing's 'wastage'
In the past year more than 70 dogs have tested positive to banned substances, but insiders say many more cheats go undetected and use popular drugs including cocaine, amphetamines, caffeine and EPO, the performance-enhancing hormone favoured by disgraced cyclist Lance Armstrong.
The industry estimates that some 25,000 greyhounds are bred in Australia each year, for a gambling industry.
The greyhounds who do make it to the track may endure harsh training regimes and are put at significant risk of sustaining serious injuries, such as broken legs, paralysis or head trauma, during training and racing. Some even die from cardiac arrest due to the extreme physical intensity of racing. On many occasions the injuries are 'uneconomical' to treat and the owner will instead have the dog killed.
They will finish racing between the ages of 2 and 4.  Of the chosen dogs only about half reach naming and training age. Thousands of puppies and young dogs are routinely killed.  The racing industry use the euphemism that they are  "humanely euthanased", or kept by their owners or adopted as pets.   The grim reality is that campaigners believe that 20,000 dogs are slaughtered every year. 
Many retired greyhounds are dumped, used for medical research or bled to death for their blood.  In a macabre irony, unwanted and dying greyhounds are being drained of their blood to help with the treatment of other dogs!  It's like "farming" spare body parts, from third world impoverished countries, and risking the lives of the "donors" or killing them, for the benefit of the wealthy.   It's predatory as is assumed that greyhounds, being part of an "industry" rather than pets, have less intrinsic value.
7.30 Report has exposed widespread doping of the racing dogs, but even more saddening and grotesque is that veterinary nurses claim they are being forced to kill some of the 17,000 healthy greyhound dogs believed to be discarded by the industry each year.
SELENA COTTRELL-DORMER, VETERINARY NURSE: You get eight dogs dropped off, oftentimes they will be just, yeah, just absolutely bled to death and euthanased, put in a body bag and put in the freezer and taken away for incineration. That's absolutely routine. No-one would bat an eyelid at that being the reality.
VICTORIA LUXTON-BAIN, VETERINARY NURSE: They would be brought in by a trainer. Normally we would get about three or four dogs and then they would arrive and then they'd be bled within about 48 hours of arriving. So they'd be put under anaesthetic and then bled and then euthanased while under anaesthetic.
Animals and entertainment/gambling industries are not compatible, and inevitably lead to exploitation.  The greyhound racing industry cruelly adds to our already abysmal pool of unwanted animals, doomed for "death row".
Like the horse racing industry's over-breeding and high rates of disposals, each year thousands of dogs never make it to the track because they fail to chase - or simply aren't fast enough.  They then become "wastage" and end up being destroyed.
Export
The Australian greyhound racing industry exports hundreds of greyhounds to supply and stimulate racing industries in other countries, where most of them will also be killed after their racing days. One of the biggest markets is Macau, — where the Canidrome racing track does not allow any dogs to be adopted.
Greyhound racing has been recognised as a cruel sport and therefore banned in 6 states of the USA and also in South Africa, with growing opposition in other countries.  Australia's standard as a first-world country, with humane treatment of animals, is failing to give these dogs a "fair go".  
This "sport" that uses, consumes and disposes of dogs in a wholesale manner and needs to be banned, like blood sports.
Greyhounds maybe fast, but they don't need much exercise.  They are naturally docile and gentle dogs and given the chance they make loving and faithful companions.