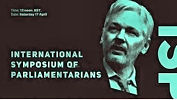 There will be an international public symposium of parliamentarians and legislators who will discuss and examine the issues at stake in the Julian Assange case. The event will also be live-streamed by the Don't Extradite Assange campaign on their YouTube, Twitter and Facebook channels.
All major Human Rights and Free Press Organizations have opposed Assange's extradition including Amnesty International, Reporters Without Borders, Committee to Protect Journalists, Human Rights Watch and many more. Newspaper Editorial boards including The Guardian, New York Times, El, Pais, Der Speigel, Le Monde, as well as major Journalist Unions including the UK's NUJ and Australia's MEAA have voiced their strong opposition to the proceeding against Assange and the threat it posses to Journalism and the Free Press.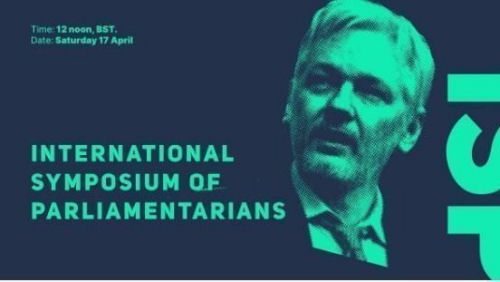 Saturday 17 April 12pm noon BST (UK time).
Programme:
Session 1. Briefing on the Julian Assange case with UN Special Rapporteur on Torture Nils Melzer and Stella Moris, Julian Assange's partner. Chaired by Richard Burgon MP. Followed by questions and contributions. 
Session 2. Country Reports: A chance for attendees to discuss the situation in their countries.
Session 3. How to take the campaign forward. With former Nobel prize winner Adolfo Pérez Esquivel, German Member of Parliament Sevim Dagdelen and UK MP Richard Burgon – with questions and contributions from attendees."
Video promo of the symposium : https://twitter.com/i/status/1381238089054625798
Source: https://dontextraditeassange.us20.list-manage.com/track/click?u=dc0b6933f34803bd7d8dd8280&id=31ee39749b&e=638a78e322
This article was from a Change.org petition, posted by Philip Adams of Brisbane, which you can find here: https://www.change.org/p/free-julian-assange-before-it-s-too-late-stop-usa-extradition/u/28886922?cs_tk=Ap_QvX0n5s8uAEfkfGAAAXicyyvNyQEABF8BvG_YpAHnW1P7RibK6BaV_UE%3D&utm_campaign=3c4985bb22d14b7bbe32d499c4573190&utm_content=initial_v0_4_0&utm_medium=email&utm_source=petition_update&utm_term=cs