See also: comment Opposed to $500 million Chinese theme park for NSW Central Coast (10/8/14) by the Australia First Party.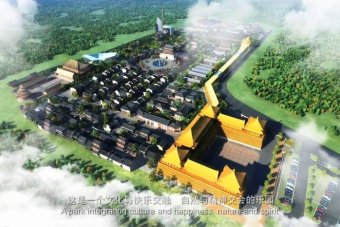 The Wyong Shire Council on NSW's Central Coast, has given its approval for the construction of the "Chappypie China Time" theme park to be built on 15.7 hectares of bushland at Warnervale. The bushland was sold to the Australia Chinese Theme Park Pty Ltd (ACTP) for $10 million. A short presentation by the Wyong Shire council to promote the Theme Park is shown below:
Evidently Australian entepreneurs are no longer capable of employing the Central Coast workforce to make goods and services to sell overseas. Instead, they can only offer jobs to serve affluent overseas guests in hotels, escort agencies or venues like the proposed "Chappypie China Time".
Other pages promoting "Chappypie China Time"
Chinese cultural theme park planned for Warnervale, video, poll (4/8/14, Newcastle Herald), , Chinese Theme Park for Warnervale - Office of the Mayor (Wyong Shire Council) (4/8/14, World News), Massive Chinese-style theme park proposed for Central Coast (4/8/14, ABC News).