This story has since also been reported on 11 August on RT as US ex-intelligence chief on ISIS rise: It was 'a willful Washington decision'. The RT report includes three embedded video broadcasts.

The former director of the US Defense Intelligence Agency (DIA) has said that the rise of the ISIL terrorist group in Syria was a "willful decision" made by Washington.
An internal DIA study released recently shows Washington knew that the actions of "the West, (Persian) Gulf countries and Turkey" in Syria may create a Takfiri group like the ISIL.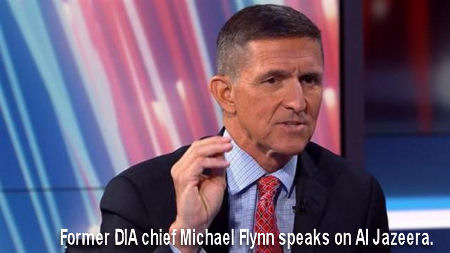 Article originally published http://www.presstv.ir/Detail/2015/08/08/423762/US-ISIL-Syria-terrorist-group with interview on news program on 8 August 2015.
Michael Flynn, the former head of the DIA, has described the study as important and confirmed its findings.
In an interview with Al Jazeera TV, he said he had studied a DIA memo in 2012 predicting the West's backing of ISIL in Syria, adding it was very clear intelligence.
When the interviewer asked whether the administration turned a blind eye to his analysis, Flynn said, "I don't know that they turned a blind eye, I think it was a decision. I think it was a willful decision."
Asked if it was a willful decision to support an insurgency, he responded, "It was a willful decision to do what they're doing."
He also said he had even argued against sponsoring foreign militants in Syria, noting the reason behind the rise of the ISIL was the US and its allies sponsoring terrorists in Syria to pressure Damascus.
Observers say that the US and its allies helped create and train the terrorist organizations to wreak havoc in Muslim countries.
The ISIL militants have seized large swathes of land in Syria and Iraq. They have been carrying out heinous crimes against all communities in both neighboring Arab states.
Elsewhere in his remarks, Flynn admitted that Washington was well aware of the chaos Iraq would face following its withdrawal in 2011.
US warplanes have been conducting airstrikes against ISIL in Iraq since early August 2014. Some Western states have also participated in some of the strikes in Iraq.
Since late September 2014, the US and some of its Arab allies have been carrying out airstrikes against ISIL inside Syria without any authorization from Damascus or a UN mandate.