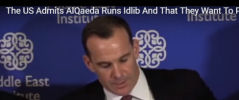 The U.S. asked the Merkel administration to participate in "retaliatory" regime change strikes on the Syrian government forces when, likely soon, another faked 'chemical' incident will be blamed on it. Several high ranking members of Chancellor Merkel's party want to follow that call. But now the Scientific Services of the German Bundestag, the equivalent of the U.S. Congressional Research Service, released an authoritative legal opinion (pdf, in German) on the issue. Such an attack would be illegal under international law and it would also violate the German constitution. There will be no official German support for such a wider attack on Syria. (In an earlier opinion the Scientific Service found that the continued U.S. presence in Syria is illegal.)
Fitting to the anniversary of a remarkable incident that took place in New York, Maram Susli, aka SyrianGirl, released this video with quotes from Brett McGurk, special presidential envoy for the global coalition to counter ISIS, and from the U.S. ambassador to the UN Nicky Halley.
Source: Moon of Alabama.

German military strikes on Syria would be 'absurd & irresponsible' – Left Party chair
See also article at RT here: https://www.rt.com/news/438198-german-airstrikes-syria-wagenknecht/
The leader of Germany's Left Party hit out at the government for mulling potential military strikes against Damascus, just one day after Berlin said it was in talks with allies about possible German military deployment in Syria.
"I believe that these discussions are completely irresponsible," Die Linke (the Left Party) leader Sahra Wagenknecht told German N-TV, adding that discussing such plans is "absurd."
In a Facebook post just hours earlier, Wagenknecht demanded from German Chancellor Angela Merkel that the federal government not blindly follow demands from the Trump administration.
Merkel should "make it clear [to Washington] that there will be no automatism for a German participation" in US-led strikes on Syria, she said, branding such attacks as "violating international law."
Wagenknecht castigated the ministry of defense, saying "it's a scandal" that the department is even checking "whether a principle of a parliamentary army can be thrown away for the sake of military support for Trump." 
According to German law, the use of the army (Bundeswehr) for missions abroad should be greenlighted by MPs. 
The comments from the leftist politician come just one day after German government spokesman Steffen Seibert said that Berlin is in talks with its allies about a possible military deployment to Syria if Syrian government forces "used chemical weapons" against the last major rebel stronghold in Idlib.
The government announcement drew instant criticism from the Social Democrats on Monday, while on Tuesday a group of specialists within the Bundestag concluded that the German military's participation in military strikes in Syria would violate Germany's constitution and international law.