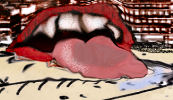 Thanks for the invitation to be involved in your recent Water leadership workshop. I enjoyed the experience.
Regarding my point about population in the notes you took and have reproduced below, I think your notes play down the problem and don't reflect the entirely of what I said.
On the current trajectory Melbourne would be 8+ million by 2050- just 34 years away. And it is irresponsible to represent the issue as having any chance of stopping there.