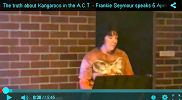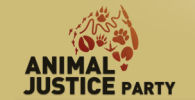 This paper is about the ACT government's behaviour in relation to killing kangaroos, not just its treatment of the kangaroos themselves, but the way it has recently been trampling the rights of its own citizens in its zeal to kill kangaroos. This talk was one of three given on 5 April 2016 in Canberra in an event held by the Animal Justice Party, called, "Policy basis for kangaroo treatment in the A.C.T."
The truth about kangaroos in the A.C.T.: Abusing animals and dismantling democracy
1. The First Code of Practice
Very soon after the passage of the ACT Animal Welfare Act in 1992, an Animal Welfare Advisory Committee was formed under the Act, mainly to develop codes of practice for animal welfare.
One of the earliest codes AWAC developed was a Code of Practice for the Humane Killing of kangaroos. This was mainly for local farmers, but it also became clear that it might at some time be wanted by the government itself - if kangaroos ever needed 'culling' on public land..