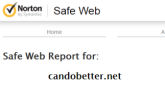 Some anti-virus software on browsers has begun to behave like viruses themselves. Rather than submit to this irritating and sometimes devastating highjacking of your browser, computer and wallet, you can simply use on-line anti-viruses. You copy the URL (e.g. https://candobetter.net) of the site you want to visit and you then paste it into an online anti-virus program, such as Norton Safe Web: https://safeweb.norton.com/ or Trend Micro or Google safe browsing. Candobetter.net passes all these tests and is very safe; reports inside.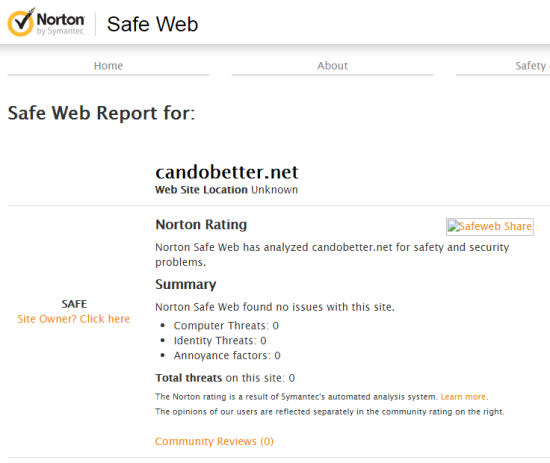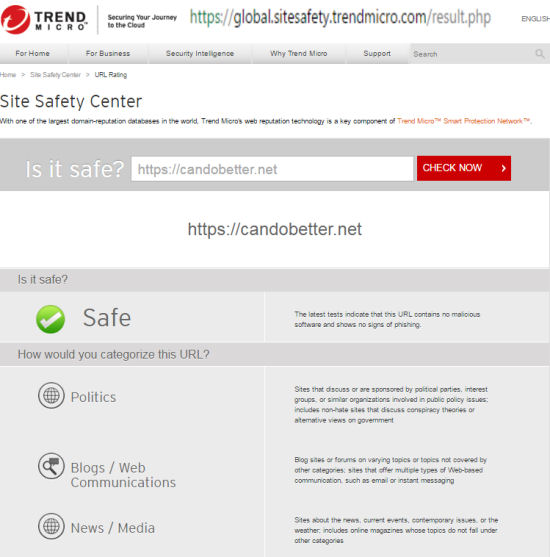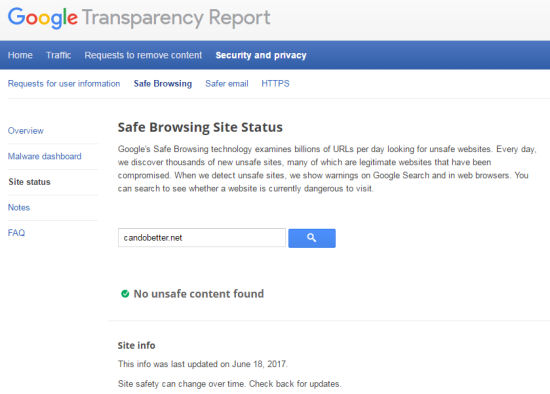 Several candobetter.net writers report problems with Avast and AVG free antiviruses. Both programs have prevented me and others from accessing this site, even when we knew it was absolutely clean. Furthermore, neither anti-virus responded to reports that they were making a damaging false-positive. I tried again tonight, without success.
AVG and Avast get poor grades from PC Mag
Years ago many people used both these antivirus brands with confidence, but things have changed since then. PC Mag has graded both AVG and Avast poorly due to their excessive tendency to falsely report websites as malicious:

"AVG and Vipre dropped from Advanced to Standard; Avast, with very many false positives, dropped from Advanced+ to Standard."
In the mean time, people are prevented from browsing freely because AVG and Avast block perfectly safe sites. Sometimes the anti-viruses warn that computers have been attacked by malware when they haven't and then charge to remove these false threats.
Lots of complaints on line about Avast and AVG
You can check the reputation of anti-virus software on line, using sites like https://www.consumeraffairs.com/. Any on line search will reveal a lot of complaints about Avast. Some examples: https://www.consumeraffairs.com/computers/avast-antivirus.html; https://avast-software.pissedconsumer.com/; avastscam dot com slash a-track-record-of-fraud (which I am not linking to due to its not having https in front of its URL, since, if I do, this site gets labeled insecure by Firefox, even though the avastscam site seems secure. (Very irritating).
See some complaints about AVG here: https://www.consumeraffairs.com/computers/avg.html. It is often difficult to get rid of AVG by the normal method of uninstalling. You can go to the AVG website at AVG Remover for a special tool to remove this faulty anti-virus, but apparently it does not always work. If you cannot find something on line to remove AVG, then you may have to take your computer to a computer repair person.
I am personally aghast at how web-users allow anti-viruses to control their web-browsers, although a lot download them accidentally with their browser updates or other software, such as flash players. Personally, I only use an anti-virus to sweep my computer. You can stop and start a computer scanner in the background and they alert you to anything new in the computer or if it is behaving strangely. If you do download malware and your computer begins acting strangely, then it is a good idea to turn it off immediately to prevent further harm and take it for repairs before you turn it on again. If you want to browse freely then check your favorite sites using the online checkers mentioned above: Norton Safe Web: https://safeweb.norton.com/ or Trend Micro or Google safe browsing. Always input https:// before the URL of a site. www. alone will sometimes take you to somewhere quite unexpected.
NOTES
See PC mag at https://au.pcmag.com/software/29815/feature/false-positives-sink-antivirus-ratings. Note that I have had to insert an 's' after the http addresses in their original text so that this article does not get candobetter.net labeled suspect because of its inclusion of a quote from a pre-https URL (Auggh!):
"The researchers rank false positives at five levels: very few (0 to 1), few (2 to 10), many (11 to 50), very many (51 to 100), and crazy many (over 100). Products exhibiting many false positives lose one certification level, those with very many lose two, and those with crazy many lose three. That means a product with crazy many false positives will rate as Tested, regardless of its detection rate.
Perpetual winners Kaspersky and Bitdefender managed an Advanced+ rating, meaning they had excellent detection and no false positives. McAfee and Fortinet also achieved Advanced+, but nine others dropped to Advanced due to false positives.
AVG and Vipre dropped from Advanced to Standard; Avast, with very many false positives, dropped from Advanced+ to Standard. Baidu's very many false positives shoved it out of contention, down from Advanced to Tested.
Why Does It Matter?
What's the big deal about false positives? Well, depending on the prevalence of the file affected, the consequences can be epic. Some years ago McAfee erroneously quarantined an important Windows file (they'll never live that down!). More recently, Panda identified its own files as malware. Even without major fiascos like these, if your antivirus visibly makes mistakes, you'll lose faith in it. AV-Comparatives offers a detailed report on false positives encountered by each product in this test, including prevalence data for the legitimate samples."