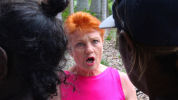 Pauline Hanson, the leader of One Nation, an Australian political party, says the Sentinel Island tribe that killed US missionary John Allen Chau with bows and arrows, should be praised for their immigration policies. Good to see one politician in Australia has respect for non-agricultural peoples. Inside find most of an article reporting this from https://www.rt.com/news/444962-australia-hanson-tribe-missionary/
The pre-Neolithic Sentinelese tribe that riddled a lone American missionary with arrows and left his body on a beach were protecting "their way of life through the enforcement of their strict zero-gross-immigration policy," read a formal motion lodged with the Australian Senate by the leader of Pauline Hanson's One Nation. She has asked the Senate to acknowledge and support the tribe's desire to remain untouched.
The motion was shot down "citing diplomacy concerns," to which Hanson replied that the Australian government is refusing to acknowledge the "devastating effect" that even small levels on migration can have on "a people's culture and way of life."
I for one will not be condemning the Sentinelese as racist for keeping their borders closed, nor will I condemn them for their lack of diversity.
Hanson was making an obvious parallel with the ongoing migration crisis that has hit many first-world nations in recent years. While European nations are struggling to accommodate hundreds of thousands of migrants and refugees mostly from the Middle East and Africa, Australia has maintained a comparatively strict policy, running controversial offshore detention facilities and turning back boats carrying migrants.
Earlier in November, the Australian government refused to enter a UN pact on migration, saying it would "risk encouraging illegal entry to Australia and reverse Australia's hard-won successes in combating the people-smuggling trade." The country currently has a migration cap of 190,000, but Prime Minister Scott Morrison has hinted that it will be reduced next year, because voters are concerned that migrants are making Australian cities unsafe.



Also on rt.com
American missionary slain by volley of arrows from 'world's most dangerous tribe'




The tiny Sentinelese tribe that Hanson has praised for successfully keeping migrants at bay for the past 30,000 years is one of the few remaining uncontacted peoples on the planet. There are an estimated 50 to 150 of them living on the small North Sentinel Island in the Indian Ocean. It is illegal to get within three nautical miles of their shores – a law which missionary John Allen Chau broke in mid-November when he was taken near the island by Indian fishermen.
The tribe's protected status makes it difficult to recover Chau's body, and impossible to prosecute anyone for his killing. Indian police have charged the fishermen that brought him to the island.