The letter writer suggests that the ABC should publish on its website complaints and its responses so that anyone can see them. This would help to ensure transparency and would allow the public to judge whether the ABC exhibits bias on particular issues. (The letter writer also claims that the ABC shows consistent bias in dealing with Australia's policy of rapid population growth.)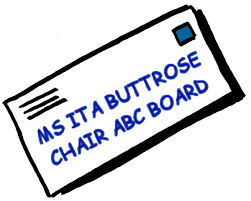 Ms Ita Buttrose
Chair, ABC Board
Dear Ms Buttrose
Congratulations on your appointment. I wish you well in performing the duties of this important and complex job.
I hesitate to impinge on your time as I am sure you will be extremely busy in your new role but it is about a matter that I believe is important, and , in my opinion, has a simple, easily implemented, inexpensive answer that at least partly addresses the problem.
A little background. I am a 76 years old semi retired former public servant. I am an advocate for zero population growth. I am a member of Sustainable Population Australia (a national non political body) and the co founder and Convenor of the 350 member Stop Population Growth Now Party (registered to contest elections in SA). I have contested elections in SA on 3 occasions.
I listen to and watch the ABC a lot. My radio is tuned to ABC News Radio most of each day, and I am a consistent watcher of the Drum, ABC News, 7.30 Report, and Q and A. My favourite show is UTOPIA.
Regrettably, I have formed the view that the ABC is biased in a number of areas. In particular, I have found it necessary on a number of occasions to lodge complaints regarding the treatment of population policy on certain programs. For example, there was a recent discussion on housing affordability on the DRUM. The population of Australia increases by nearly 400,000 per annum, and yet this absolutely fundamental factor in housing affordability was barely referred to. I will not take your time by listing all the complaints I have made – you can no doubt request details
from ABC records, but I need to advise I have never been properly satisfied by the responses I have received. Indeed, ABC responses are characterized by reluctance to address the fundamental issue.
It interests me that all ABC programs are so consistent in barely mentioning population in discussing the problems that face this nation. There is constant debate about lack of infrastructure in Australia. The ABC can be depended on to bring up factors such as lack of finance etc but population pressures get little mention. Yet, the fact is that significant reductions in our population growth will have major benefits to Australians.
May I suggest a small way this situation can be improved. I suggest that, with the agreement of the complainant, the complaint, and the ABC's response be published on the ABC's website. This would help to ensure transparency and would allow the public to judge whether the ABC exhibits bias on particular issues.
I hope you find this suggestion useful.
Sincerely
Robert (Bob) Couch