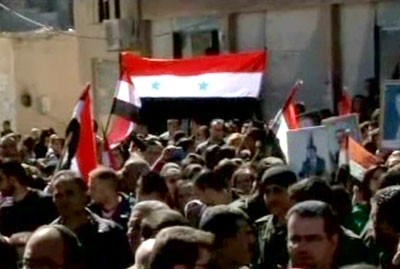 This page, and adjacent book pages, will headlines, links to important articles about the Syrian conflict and explanatory comments. Copies of some of these articles will also be on candobetter.net. Comments, which add to the discussion (whether in agreement or critical), are most welcome. Candobetter Editor Update 7 April 2021: You will find there are links to videos here that have since been removed from youtube. This was the effect of youtube's sweeping pro-US censorship of content that was vitally important to establish the truth on Syria: Notably all videos from the Syrian Government, mostly of President Bashar al Assad's video records of interviews and speeches. Also videos by activists, such as Syrian Girl Partisan. It is tragic that the world is so dependent on such a prejudiced publisher as YouTube. It is important to find and support other video platforms.
Damascus, (SANA, 26 Feb 2014)-Speaker of the People's Assembly Mohammad Jihad al-Laham affirmed that the Syrian people alone have the right of self-determination and elect their representatives through ballot boxes ... (unable to retrieve the rest from SANA, because of slow connection - Ed, 13:36 +10:00 26 Feb 2014)
Russia: Any resolution on Syria under humanitarian pretexts won't be allowed (17 Feb 2014)
... The [Russian Foreign] Minister stressed that there are deliberated attempts to hold the Syrian government responsible for the atrocious crimes through lies and manipulation of facts, while statistics prove that the greater part of complicated issues is caused by the behavior of extremist terrorist groups, not the Syrian government. ...
Syrian Journalist entitled Ambassador of Good Will (20 Feb 2014)
Homs(SANA)- The International Parliamentary Union granted Syrian Journalist Lina Jnaidi the title of Ambassador of good will in the field of woman rights and media in Syria.. ...
Syria: UN report on children and armed conflicts violates neutrality and credibility (21 Feb 2014)
Syria's Permanent Representative to the UN in Geneva Faisal al-Hamwi dismissed some of the paragraphs of the report submitted by UN Secretary General's Representative for Children and Armed Conflict Leila Zerrougui as a blatant divergence from neutrality and credibility.
Delivering Syria's statement at the meeting of the UN Children's Fund (UNICEF) on the international humanitarian initiative for children care, al-Hamwi criticized Zerrougui's ignoring of the Syrian government's cooperation with her and her team and the UNICEF office in Syria. ...
Massive rallies stress unshakable support for army (21 Feb 2014)
Citizens across Syria continue to pour into the streets, sending out a strident message of support to their army in the face of terrorism that has plagued the country, and unshakable allegiance to national firm principles.
Sadad town in Homs spells out support for army ...
Hazarma town in Douma marches in rejection of terrorism ...
Citizens in Um al-Toyour, Lattakia countryside voice support to army ...
Al-Baath Party National Leadership calls for confronting terrorism sponsors (21 Feb 2014)
The National Leadership of al-Baath Arab Socialist Party urged all the Arabs to rally around resistance and stand up against the sponsors of terrorism.
Syrians express staunch support to the Army and national principles (21 Feb 2014)
Thousands of Syrians went out in massive rallies in various areas and cities on Thursday in manifestation of unswerving adherence to the Syrian national principles and staunch support to the Syrian Arab Army.
Thousands in Qudsayya show support to Syrian army, national principles...
Najha residents voice support to national principles...
Massive rally in Misyaf to glorify martyrdom...
PM dismisses 218 more corrupt state workers (20 Feb 2014)
Damascus, (SANA)- Prime Minister Wael al-Halqi on Thursday issued several decisions dismissing 218 workers from various ministries and state establishments.
The dismissal came within the government's measures to combat administrative and financial corruption.
104 other workers were dismissed earlier this week for the same reasons.
From the Syria News (http://www.syrianews.cc/)
The End is Near Or Is It (21 Feb 2014)
The ongoing battles in Yabroud reveal the Army's determination to finish what it had initiated a couple of months ago which is to put an end to the threat the militants taking Qalamoun Mountains as shelters imposes. The Army is seeking to either regain control over some regions in specific (Qara, Deir Atieh, Nabak, and lately Jarajeer and Rima heights), or to impose a siege and block the way on supplies reaching armed groups in Yabroud, Assal Al-Ward, and later Rankus
The strategy of "taking control with fire" and "gradual gnawing" which the military units in Yabroud and its surrounding are following left great geographic, material, and life losses among the armed groups, according to the opposition itself which assured Monday night the killing of a significant leader, ...
The Final Damascus Saga & The Assassination of Dr. Bashar Al Assad (20 Feb 2014)
Grim warnings that an all-out assault on Syria, including assassination of President al-Assad may be imminent. Article is critical of Iran and Russia whom I had thought had helped prevent the defeat with their support of syria: "The role of the Russians is very murky, the role of the Iranians in this part is even murkier, both seen to be favoring the weakening of a strong Syria to enforce their shortsighted goals, ..."