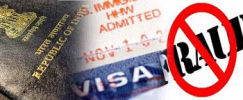 Sustainable Population Australia (SPA) today called on the Federal Government to undertake a complete review of immigration into Australia in light of claims of widespread rorting of the system.
This week, Dr Bob Birrell and Dr Ernest Healy from the Centre for Population and Urban Research at Monash University issued a report called Immigration and Unemployment. In it, they claimed that the Department Of Immigration and Citizenship (DIAC) had not only issued record number of student visas to people who may not be considered genuine students, but had granted permanent residency to large numbers of skilled migrant applicants who did not have the appropriate skills being claimed.
According to the report, large numbers of cooks and accountants are being issued visas despite there being plenty of local candidates. It called for a halting the recruitment of migrant workers whose occupations are in surplus in Australia or for which there are available resident candidates.
National President of SPA, Ms Jenny Goldie, says both Labor and Liberal Governments have been so focussed on stopping "boat people" they have allowed rorting to continue in the much larger skilled program.
"Related to this is the 12-year high unemployment rate of 6.4 per cent in July," says Ms Goldie. "Birrell and Healy have revealed that since 2011, migrant workers have taken 380,000 of the 400,000 net jobs growth. Young Australians, in particular, are missing out on jobs with unemployment for 15-24-year-olds hitting 14.1 per cent
The report revealed that visas were issued to 7000 foreign accountants in 2012-13 despite 7200 domestic students completing bachelor or higher degrees in accounting in 2012. The Department of Employment declared there was "a more than adequate supply of accountants".
"You would think that the respective Ministers for Employment and Immigration would confer occasionally on what was in the best interests of the country, but apparently not," says Ms Goldie.