Maryland Wilson, President of the Australian Wildlife Protection Council, announced today (June 30, 2015) that Queensland LNP Senator Barry O'Sullivan will have a singular focus when he spearheads an Australian government trade delegation to China to try to seal the deal on kangaroo meat exports. #kangaroo #exploitation. The Trans Pacific Partnership agreements, if they go through, would worsen the already terrible situation of many Australian native animals and could provoke species extinctions.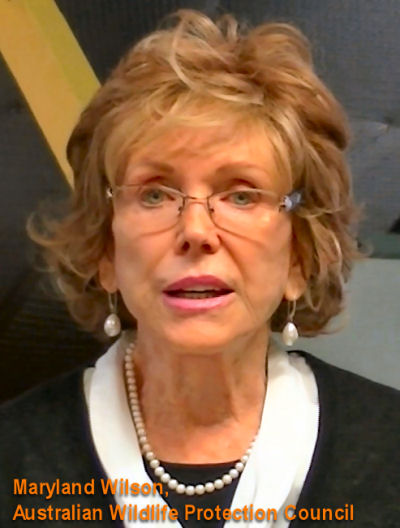 Calling to friends of wildlife, and drawing attention to the plight of kangaroos as particularly urgent, President Wilson said:
"This is a huge issue now.

We could lose our independence as a nation with global trade agreements

Kangaroos will be global 'asset', not just our native wildlife, protected as they are,

With more than 1.3 billion people in China, with an appetite for kangaroo meat, it's unsustainable. Nobody really knows how many kangaroos in Australia, and numbers have plummeted in NSW. They are hated because they cause "grazing pressure" (they eat grass!) and the government wants every blade for livestock - despite the drought over Queensland."
Donate to the AWPC to help Maryland's entirely volunteer non-profit organisation continue its great service to Australian wildlife. AWPC is a tiny organisation that punches above its weight, made up largely of hands-on activists. Download the AWPC Donation form.