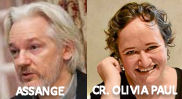 At its meeting of Tuesday 28 June, the Melbourne City Council unanimously passed a motion by Cr Olivia Paul which called upon the Australian government to make strenuous diplomatic intervention to free Julian Assange. Given that both Britain's imprisonment and torture of Julian Assange for the last nine years and the United States' efforts to extradite him are both illegal under the laws of the UK and the US as well as international law, any determined intervention by Australian Prime Minister Anthony Albanese would almost certainly quickly bring about Julian Assange's release.
The motion put to the Melbourne council is:
That Council: 1. Expresses grave concern that on 17 June 2022 the British Government approved the extradition of Wikileaks co-founder Julian Assange to the United States;

2. Affirms its support for freedom of expression, freedom of the press and whistle-blowers and for their protection in all jurisdictions everywhere;

3. Asserts Mr Assange's rights to humane conditions of imprisonment, to freedom from cruel, inhuman and degrading treatment or punishment, and to a fair trial, as enshrined in international human rights treaties ratified by Australia, the UK and US;

4. Notes that on 23 June 2020, the FMC adopted a motion in support of Mr Assange, asking the CEO or Lord Mayor to petition the Australian Government on his behalf; and

5. Requests the Lord Mayor write urgently on behalf of the Council to Australia's Prime Minister, Foreign Minister and Attorney-General in support of strenuous diplomatic intervention to free Mr Assange and have the charges against him dropped.
Melbourne Council discusses Julian Assange, 28 June
Speeches for the motion were moving and made original points
Three councillors spoke for the motion, the mover, Doctor Olivia Paul, the seconder Jamal Hakim and Philip Le Liu. Their speeches follow:
Dr Olivia Paul This Sunday [3 July] is Julian Assange's birthday and it will be the fourth birthday he spends in the Belmarsh Maximum Security Prison. He has published the truth. and no-one claims otherwise. He has a profound commitment to the proposition that good governance and democracy itself should be based on the truth and the public knowing the truth. He co-founded Wikileaks here in Melbourne where he went to high school and university. He created a secure means by which whistleblowers can safely expose the truth. The most famous such whistleblower [Chelsea Manning] is now walking free.
No-one has been prosecuted for the crimes exposed by Wikileaks. This is justice turned on its head and we cannot look away.
Countless mastheads and mass media outlets have reported on Wikileaks publications. They are not being prosecuted. But whistleblowers in general everywhere are cowed by this harsh treatment of Julian Assange.
His case is a matter of human rights, of humanity, of the rights and freeedoms of us all when it comes to freedom of the press, freedom to blow the whistle and speak up against injustice and wrongdoing.
In 2010, the Obama administration investigated the impact of the publications for which Mr Assange is now being prosecuted and in 2013, the head of the investigation testified that there is no evidence of single person being harmed by the publications.
Beyond our rights and the greater good of society, there are at least two serious human rights abuses which Mr Assange is personally subjected to, which should concern us - solitary confinement and arbitrary detention.
Amnesty International campaigns against solitary confinement -- calling it a form of cruel, inhuman and degrading treatment or punishment. Why should we care whether Mr Assange or anyone is held in solitary confinement? Because prolonged solitary confinement is a breach of the convention against torture.
So how long is too long? And this is a matter of some debate, but the UN Special Rapporteur on Torture [Nils Melzer] believes it should not exceed seven days.
If extradited to the United States, Mr Assange faces a lifetime in solitary confinement. We cannot imagine.what solitary confinement is like, but a US journalist - some of you may remember Terry Anderson - was in 1985 captured reporting from Beirut and held hostage for nearly 7 years. And he wrote of his experience in his memoir of the impact of just his first month in isolation.
He wrote, "The mind is blank, Jesus, I always thought I was smart. Where are all the things I learned, the books I read, the poems I memorised. There is nothing in there., just formless grey back misery. My mind's gone dead. God help me."
Comparing it with time he spent in prison with other hostages, Terrry Anderson concluded that "I would rather have had the worst companion than no companion at all."
The UN Special Rapporteur on Torture has concluded that Mr Assange is currently being subjected to psychological torture. And a British judge has ruled against his extradition on the grounds of mental harm.
Detention is arbitrary in a number of conditions, those of which apply here include if people are detained without regard for its effect on their physical and mental health which I think is beyond dispute. It is also arbitrary if it is indefinite.
An arbitrary detention, like torture, is a gross violation of human rights, which is a term used in this motion. It's a term which is preserved for the gravest abuses of human rights which the UN Special Rapporteur on the right for remedy [perhaps Dr Paul means Nils Melzer, the UN Special Rapporteur on Torture and other Cruel, Inhuman or Degrafing Treament or Punishmment?] lists that amongst them are genocide, slavery and arbitrary and prolonged detention.
As stated in this motion, the UN Working Group on Arbitrary Detention has judged Mr Assange's imprisonment to be arbitrary and has recommended that he be freed and compensated. The UN Special Rapporteur on Torture and Amnesty International have called for his release, and we do no less and no more than that in this motion.
I'd like to conclude, if I may, by quoting Mr Assange's wife, Stella Moris. This is some six months ago she said "We are in a situation now, where there are only two outcomes that will happen. Either that Julian regains his freedom or he loses his life. I'm here to remind you that Julian isn't a name. He is not a symbol. He is a man. He is a human being and he is suffering. He has children. He has a family. They're hiding him from you. They're silencing him. It is an abberatrion that Julian is not a fee man. In no sane world can this be normalised. I thank you"
Lord Mayor Sallly Capp: Thanks Councillor Ball. To you, Councillor Hakim.
Councillor Jamal Hakim Thank you Lord Mayor and thank you Councillor Dr Ball for those strong words and impactful words that you have shared.
I am seconding this motion tody in the absence of the Deputy Lord Mayor as he wasn't able to do so tonight and I will try to be as eloquent. I will not repeat things, but wanted to add a few more things to this discussion.
War crimes are serious and I don't think any of us are arguing with that. I have argued across the world that. Importatantly, regardless of where it occurs and who commits those crimes, the injstice must be prosecuted in the same way.
So whether it is Russia in Ukraine today, [1] Saudi Arabia in Yemen or the United States in Iraq, turning a blind eye to war crimes is never acceptable and criminalising their communication does nothing but diminish democracy and all the work that the world has done since World War 2.
Journalism and the truth must be a protected right. and what is happening with Julian Assange is an outrageous attack by a powerful state embarassed by its own war crimes. We must be able to learn and grow from these things - not shirk away and diminish democracy.
Just because a legal system allows it and allows something doesn't make it lawful or just or right and this grave situation is one of those clear violations of the tenets of our democracies and the degredation of democracy. So, we should stand up against it.
Further, Mr Assange-- as Councillor Dr Ball said -- is a human being. He is also an Australian and he has also sufferred greatly for publishing the truth and his journalistic efforts.
This is an unconscionable travesty. We have a role as Australians to ensure that he could come home safely.
I support this motion and commend it to you, Councillors.
The lord Mayor then asked if anyone else wanted to speak to the motion.
Councillor Lieu Thank you and I just want to add to the debate, the role of Julian Assange.
Julian was actually just a publisher of the materials. Chelsea Manning was actually the person who leaked it and President Obama actually pardoned her for her role in it and I hope that first and foremost tha he is an Australian and he has spent time in the city of Melbourne. I will be supporting it, because there are some things that we do need to take regardless of what is being said and done and I think -- I hope that the Australian government will be doing everything we can to bring Australian citizens home in this particular time, especially given the role and also the pardon being given others in this particular matter, so Ii will be supprting this.
Motion carried unanimously
The motion was then put and carried unanimously and the meeting ended shortly after.
What more can be done to free Julian?
Melbourne Council's eloquent and well-reasoned call for the Austrlian government to act to free Julian Assange, should inspire other local governments to do likewise. Julian Assange's terrible plight is of vital concern to everyone who participates in Australia's democratic processes of governance at every level - local, state and federal. A motion similar to Melbourne Council's motion, or the same motion should be put, and continued to be put, to every local council, every state Parliament and the Federal Parliament, until such time as Julian is free.
Federal Parliament. since at least 2020 when independent member Andrew Wilkie attempted to put a motion in support, debate on Julian Assange has been prevented by both sides of Parliament.
June 2021: Australian Parliament refuses to let Julian Hill to put a motion in support of Julian Assange!
One year ago, on 15 June 2021, Labor MP Julian Hill tried to put the put the following motion to Parliament:
Appendix: Notice of Motion by Julian Hill MP

MEMBER FOR CLARKE: I give notice that on the next day of sitting (Monday 21/6/21 - JS) I shall move that this House:

(1) notes that:

(a) the trial and extradition of Mr Julian Assange are inconsistent with international law, and Australian legal standards, and contravene the legal rights and protections for which those laws and standards provide;

(b) the United Nations Special Rapporteur on Torture and Other Cruel, Inhuman or Degrading Treatment or Punishment has found that Mr Assange 'showed all symptoms typical for prolonged exposure to psychological torture, including extreme stress, chronic anxiety and intense psychological trauma';

(c) several medical reports find that Mr Assange is in ill-health due to prolonged arbitrary confinement, and indeed the United Nations Working Group on Arbitrary Detention ruled that the 50-week sentence of Mr Assange for bail violation, which formally ended on 21 September 2019, was punitive and disproportionate given the nature of the offence and the usual sentence;

(d) Mr Assange is facing extradition for an alleged political offence, which is expressly prohibited by Article 4(1) of the Anglo-US Extradition Treaty and an abuse of power; and

(e) Mr Assange is an Australian citizen and, if convicted in the US, faces 175 years in prison, which would be in effect a death sentence;

(2) acknowledges that Mr Assange is a publisher and journalist, as recognised by his 2011 Walkley award and 17 other awards for excellence in journalism and promoting human rights, and that his charges:

(a) are a direct assault on press freedom; and

(b) threaten the protection of others who publish classified information in the public interest; and

(3) calls for Mr Assange to be allowed to return to Australia.

The PDF file of the proposed motion, immediately above, can be found here.
Seemingly, both the then Government and the then Labor Opposition both feared the case for the Australian government acting to free Julian Assange being put to our Parliament.
So what could they fear from parliamnentary scrutiny, given that they both maintain that they have done all that they possibly could have done to end Julian Assange's imprisonment?
In fact, a proper debate either the House of Representatives or the Senate, would show to the Australian public and to the rest of the world, that:
the Australian government has done virtually nothing on behalf of Julian Assange for the last 9 years; and
had the Australian government, at any time during the last nine years, acted with its full authority, either directly to the British government or, if necessary, to the United Nations or to the International Criminal court, Julian Assange would have been quickly freed.
That is why those who control our Parliament have colluded to, so far, prevent debate on Julian Assange.
This must end by no later than the start of our next scheduled sitting of both houses of Parliament on Tuesday 26 July, should Julian still be behind bars in the UK.
What you can do
Attend protest for Julian Assange, including the vigil for Julian Assange which commences at 6pm every Friday outside Melbourne's Flinders Street Station.
Attend commemorations of Julian Assange's birthday this Sunday 3 July.
Hand out leaflets. PDF's for downloading or printing will be made available soon on this web-site candobetter.net
Post comments to Twitter, Facebook, other social media your own blog site or to other people's blog sights in support of Julian Assange.
Footnote[s]
[1] At a presentation on 6 May, Vassily Nebenzya, the Russian ambassador to the United Nations, and Dmitry Polyansky, the Deputy Ambassador, put the case that Ukrainian military forces and not Russian military forces, had committed war crimes in the conflict. The full transcript, including responses from the ambassadors of the United Arab Emirates, Norway, Albania, Ghana, Ireland, the United States, the United Kingdom, Kenya, Gabon, Brazil. China and Syria and any ensuing discussion, can be found at https://candobetter.net/admin/blog/6339/video-russia-presentation-ukraine-war-crimes-un-6-may-2022.