Humans have moved into native animals' backyards yet many of us get upset when there is a possum in our roof and go to all ends to remove it by having it relocated. Some farmers even shoot these hapless animals that are only looking for somewhere to sleep during the day and something to eat. We have a responsibility to them because we caused this situation and it's possible to not only share our space but give back some habitat to them. Here's what happened to a friend of mine recently when a possum moved into his house..... See the sequel to this story.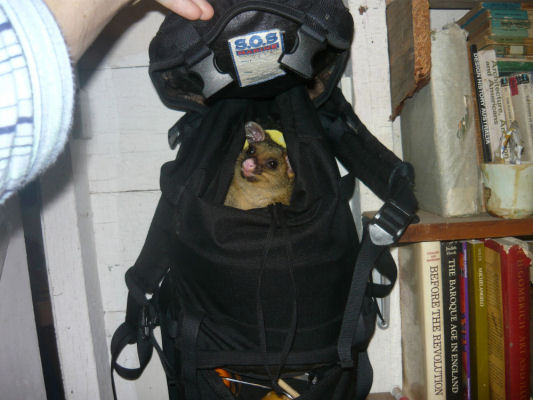 Every time I talk to my friend, who lives in suburban Brisbane, he tells me of another encounter with a possum that happened in his house. Apparently there is a small part at the top of the window where this small possum can squeeze into. The first event was a loud crash and evidence of a microwave door window being smashed. The poor thing must have been sleeping in there! Lucky my friend didn't turn on the microwave...
Being an animal-lover, of course he had to offer the hungry creature some of his leftover birthday cake. After that, evening sortees into his house became more regular. I encouraged him to give the possum vegetable and fruit matter instead of highly processed food which could make a native animal sick in time.
The last encounter was yesterday when he went to get his haversack to take to work and who was sleeping inside but none other than Ms Possum. Unhappy to be woken from her snooze in such a nice dark, warm place obviously she would have been forced to find another dark warm spot to continue her rudely awakened and by this time much-needed sleep.


I suggested to my friend that he get a haversack especially for Ms Possum but then it occurred to me that a better solution would be to get a (available here possum house or simply make your own possum house
which is attached to a tree.

That would be a nice dark location for the possum and its future offspring to sleep in by day. Perhaps position it in a shady spot so it won't be too hot in the summer. Possums should be encouraged to live outdoors and if they have a place to sleep and a food source there is no need for them to come into your house.
Relocating possums is not in the best interest of the possum. Possums are extremely territorial and if moved to another possum's territory may lose its life in a death struggle with the presiding possum.
Normally possums like to sleep in tree hollows but these are very rare and fiercely contended for by a variety of other animals. By providing a box for various native animals you will be allowing them to survive the damage wrought by tree felling over the years which has led to the destruction of their habitat.
Perhaps you could consider planting some trees in your backyard that it might like to climb in or some fruit trees. Possums feed on leaves, buds, flowers and fruits. Occasionally they eat insects, eggs, meat.
For those people who have orchards or vege gardens who object to possums eating the fruits of their labour, why not put a fence around the tree or the vege patch or at least part of it? The possums could at least have access to your compost pile. Possums come to my open, compost heap which is full of organic, unsprayed veges and fruit and must find something tasty in there.
Possums are native to Australia and therefore protected (which doesn't mean much in a country like Australia whose kangaroos are also 'protected'). However in NZ possums are regarded as 'pests' and number 70 million. They have no sympathy and are shot on sight by farmers.
Native animals have a right to live too. Without biodiversity we will all perish. Besides, possums can offer a pleasant diversion for people who live alone. Even though I live in the rainforest, the sound of the gutteral calls of the possum who comes around regularly at night and his funny way of running which reminds me of ladies in high heel shoes delicately prancing across my tin roof at top speed gives me pleasure.
There is something very satisfying about non-verbal interspecies communication. Fundamentally, we are all the same as all creatures seek happiness and avoid pain and suffering. Ultimately, nothing brings as much joy as helping provide another being its needs. For many native animals, their survival depends on our kindness, especially as they share our world.
Maybe the day will come when the lion will lay down with the lamb and man will no longer regard other creatures like kangaroos, possums, wombats and bats as pests but beings who share the planet with them in peace.
See the sequel to this story.