Generally, the oriental dragon is benevolent and powerful, bringer of good fortune. Until 1912, the dragon was the national emblem of China. Now, the god of Growth is the one that is worshipped!
In less than a decade, China has spun a web of strategic investments that stretches from Latin America to the former Soviet Union, from the remotest islands of the South Pacific to the huge oil fields of Angola and Sudan. In a range of resource-rich countries, China is diligently cultivating its interests.
South America
When China announced its biggest ever loan to a foreign country recently - $US20 billion ($21.5bn) to Venezuela through its China Development Bank - it was seen as a huge, but unsurprising deal. Venezuela ranks among the top ten oil producers in the world and boasts a robust 80 billion barrels in proven reserves. While the United States remains the top buyer of Venezuela's oil, China is emerging as a new market.
Colombia, Argentina, and Peru are smaller oil and gas producers "Peru has become the principal destination of Chinese investment in Latin America, while China has become this country's second largest trade partner," said a senior Chinese official.
The Free Trade Agreement (FTA) between Peru and China was signed on April 28. For China, Peru is an important source of minerals, primarily copper. For Peru, increasing trade with China is a key way of diversifying the export economy toward an area of dynamic demand.
Mining accounts for 60 percent of Peru's exports and was the motor behind the country's 6.7 percent annual growth from 2002 to 2008. Even with the global recession, the Peruvian government expects $30 billion to be invested in new mining projects by 2017, spearheaded by Chinese, Swiss and British-based companies hungry for copper, gold, zinc and silver. There has been little improvement in the health or living standards of the general public. More than 100 other communities are fighting oil and mining companies over contamination and use of land and water, according to the government's ombudsman — up from just 14 when President Garcia took office in 2006. The Asian giant has a reputation for flouting environmental standards and labour rights.
Shocking images were posted on the YouTube website and where was seen as the Chinese state mining, Chinalco, with deception and hiring people who do not live in Morococha Junin intend to approve the Environmental Impact Study to begin developing the mega project Toromocho despite opposition from the authorities and the head of the community..... It is sad to see how people really live there were repressed and battered by the police who should defend them, surprising even the deployment of members of the Directorate of Special Operations (Diroes) throwing tear gas at those who only wanted to exercise their right to Information and protest against the abuse of this multi-billion dollar mining
YouTube
.
In contrast to other countries, in China all companies are linked to the state and the ruling Communist Party, so that its investments conform to a strategic economic and political vision of the medium and long-term goals of the country. The Chinese firm, Shougang Hierro Peru, is also accused of causing pollution and flouting health standards and labour laws as well as the right of workers to form trade unions. Moreover, local people in the district of San Juan de Marcona, where the mine is situated, have to get the company's permission to obtain water, sanitation or electricity.
Since 2004, when it stepped up its strategy, the country has pumped hundreds of millions of dollars into loans and bonds and made 298 major equity investments across the globe, worth about $204bn.
The oil-rich South American nation is one of many Latin American nations to be showered with largesse by China in recent years as the Asian giant shores up its supply lines and increases its global political influence.
Vast mines in Peru and Chile that supply the world with crucial metals have started to pump water from the Pacific Ocean high into the Andes Mountains because of chronic water shortages exacerbated by climate change. More mines near the desert coasts of Chile and Peru plan to install desalination plants soon. Costs of the elaborate filtration systems have fallen over the last decade, while lofty global metals prices, boosted by demand from fast-growing Asia, may keep profits high for years to come. Chile's Escondida mine, the world's biggest copper mine, may expand a desalination system it installed years ago, said a spokesman at BHP Billiton, the mine's owner.
Papua New Guinea
Chinese government owned China Metallurgical Construction (MCC) corporation's efforts to establish the massively destructive Ramu Nickel mine in Madang Province, Papua New Guinea – the largest investment in metal exploration and mining by the Chinese outside of China – is in serious jeopardy. Local landowners are successfully initiating court cases and protests to demand mine tailings not be dumped into the sea – poisoning fish stocks and causing extreme ecological destruction – or the mine be stopped.
Papua New Guinea and China's New Empire
Already, its workers have built the country's longest bridge, eliminating the need for those canoes. They have built the country's biggest wharf. They have carved out a 25-kilometre access road in the mountains. And now they are working on a 134 km long pipeline which ultimately dumps waste directly on the seabed is easily prone to damage from landslides or sabotage. Local peoples are protesting the potential damage to their land, seas and way of life. (see a)
Logging
In less than a decade, China has transformed the global timber trade, importing more wood each year than any country in history and quadrupling the amount of wood products it ships around the globe.
Nearly three decades into its unprecedented economic ascent, China is outstripping its own resources and roaming the planet for more. Its hunt for timber is driven by a voracious hunger for everything from wood to cashmere to oil.
There may be no better place to hear the echoes of China's rise than Papua New Guinea, whose local timber industry is booming. It sends four out of every five logs to China. Loggers in Papua New Guinea are cutting so fast that experts calculate that the rest of its accessible forests will be cut down within 16 years.
Mercury Pollution
Third World gold mines spawn a global mercury threat
Tens of thousands of remote mining sites have sprung up mostly in Asia, Latin America and Africa, using as much as 1,000 tons of mercury each year. The mercury ravages the nervous system of miners and their families. It also travels thousands of miles in the atmosphere, settling in oceans and riverbeds in Europe and North America and contaminating fish. The use of mercury in gold mining is illegal in Indonesia because the metal is toxic to humans and the environment. But the price of gold has tripled since 2001, and mercury is the easiest way to extract it. The international trade in mercury is largely unregulated. And most of the 55 countries where small-scale gold mining is rife lack the political will or capacity to prevent the metal from falling into the hands of 10 million to 15 million poor miners.
Wildlife
China holds the largest human population in the world, which is growing and expanding into remote areas that formerly provided important wildlife habitat.
"China's border areas have long been considered a hotbed for illegal trade, with remote locations often making surveillance a difficult problem in sparsely populated areas," said Professor Xu Hongfa, Director of TRAFFIC's programme in China .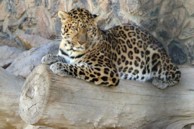 (photo: North Chinese Leopard source: wikimedia commons)
Xie Yan, the China Country Program Director for the
Wildlife Conservation Society , estimates that fewer than 50 South China Tigers are left in the wild, with about "10 still live in the southwestern province of Yunnan, some 15 in Tibet, and 20 or so in northwestern Jilin and Heilongjiang provinces. Even if take a step back and look at 12 Asian countries and Russia, it is estimated that only about 3,500 tigers are left in the wild, compared to around 100,000 at the beginning of the 20th century.
Habitat destruction and fragmentation is the main cause, along with the removal of most of the preys that tigers need to survive. But poaching is also problematic, with most of the demand coming from practitioners of traditional Chinese medicine and the illegal trade of pelts and bones.
Australia
The Rudd government last year reversed its 2008 liberalisation of foreign investment rules on real estate, and set up a unit to ensure the rules are obeyed. Temporary residents will be forced to sell any property bought during their stay in Australia, in just one of the new rules to be imposed on the market by the Federal Government to curb a high level of foreign investment. It means that Labor has figured out what many already know — that there was a voter groundswell of anger over housing in Australia.
The General Manager of Australia's Foreign Investment Review Board (FIRB), Mr Patrick Colmer told a conference organised by the Australia China Business Council in late September 2009, that the Federal Treasurer Mr Swan had approved $A34 Billion of Chinese investment in 90 projects in the past 18 months and also flagged that China would probably emerge as the third-largest source of approved investment in the past financial year.
One question not addressed is how exactly Australia will distinguish between 'public' and 'private'. The line between 'public' and 'private' in China can be blurry.
Australia's deputy government finance chief says the government still welcomes foreign investment, despite the tensions between Australia and China over Stern Hu's detention. But Deputy Treasurer Senator Nick Sherry says the benefits of foreign investment far outweigh any perceived costs.
Livestock industries
There has been a big increase from Chinese buyers of cattle farms in the past six months, it has grown 10-fold. Companies like Landmark now use Mandarin translators, said Mr Hickson, real estate manager at Landmark Operations Ltd, who showed Chinese potential buyers a 405-hectare cattle ranch near Mackay, in Queensland state. Interest from Chinese buyers has gained at least 10-fold and we sold a Queensland cotton farm last week for A$15 million to Chinese buyers, said John Burke, an agent specializing in country properties for rural services company Elders Ltd.
Chinese are wealthy and they are looking for a secure investment in beef, cotton and grain properties.
The interest in farms mirrors a trend in China's demand for minerals that helped the Australian economy avoid recession during the global financial crisis.
ABS figures show Chinese investment of just $3.05bn in 2008, although a vast pool of Chinese investment has flowed into Australia's resource sector since, or is poised to do so.
Northern Australia's resources boom, with miners Rio Tinto and BHP Billiton fuelling China's growth, is forecast to continue to grow significantly.
However, water scarcity in the north will be a major issue for future mining, along with access to skilled labor, said the report on sustainable development in northern Australia.
Research released by Roy Morgan in late 2006 clearly shows that Australian consumers want to buy Australian and that more than two thirds consciously do so whenever possible or often. Buying Australian made is good for all of us. It creates jobs, boosts the economy and improves our standard of living. It also gives us great products manufactured by Australians for Australian conditions.
New Tax The long-awaited Henry tax review push for 40 per cent national resource rent tax that would be levied on the super-profits earned by mining companies. This new tax would only kick in once the company had earned enough to cover all its exploration and development costs on a new project, and it would only apply to the project's "super-profits" – that is, the profits that the miner earns above a "hurdle" rate of return on the initial investment.
Australia exported $39 billion worth of products to China last financial year, with iron ore and other concentrates making up the lion's share, followed by coal and wool.
In return, Australia imported large amounts of clothing, telecommunications equipment and computers.
Feeding the dragon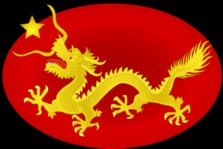 In 'Feeding the dragon: Opportunities for Australian meat in China', Rabobank says China has grown to become one of the world?s largest markets for meat – including beef and sheepmeat – and demand is expected to continue rising over the next 10 years.
This will result in opportunities for Australia, with the Chinese market continuing to grow in importance for
Australian beef and sheepmeat exporters, it says.
Population growth
The report says China's massive population, surging income, rapid urbanisation and westernisation has resulted in the country becoming a giant consumer of a range of agricultural products, including meat.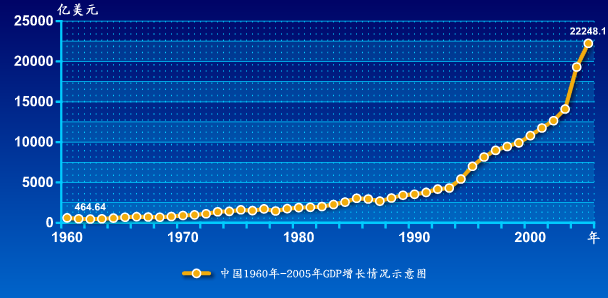 (China's growth in GDP 1960 to 2005- wikimedia commons)
Australia producing more meat for the hungry dragon of China may bring in income for farmers, but what about the environmental costs? What about soil protection, water consumption, deforestation, greenhouse gas emissions and loss of bushland and wildlife? Australian resources should be for Australia, not foreigners.
From a nation that could not meet minimal nutrition needs of its population in the early 1950s, per-capita food availability reached 3040 kcal per day in 2000, a level that is 14% higher than the average of developing countries and 8% higher than the world average. Since the early 1980s, China has shifted from being a net food importer to a major net food exporter to world markets.
According to some estimates, nearly 25% of cultivated land is contaminated to varying degrees by the over-use of inorganic fertilisers and pesticides. Soil and water scientists have found that fertiliser residues especially (in the form of nitrates) have been increasing in the soils and water sources in certain areas.
Although it is unclear how such figures are generated, it has been reported that about 10% of China's grain, more than 20% of livestock products and nearly half of the nation's vegetable and fruit production suffer from quality problems.[1]
More people, finite land, and everyone must eat. It's not 9 billion, it's near 10 billion now - the projected human population by 2050. And the population of Africa will have risen from 200 million in 1950 to 2000 million in 2050, a 10 fold increase. And it's our good friend China that is buying a lot of Africa, the minerals, food, rhino horn and the rest of the soon to be extinct fauna, while the locals starve.
Campanella's The Concrete Dragon -
China's Urban Revolution and What it Means for the World
is an engaging, disturbing and ultimately somewhat hopeful look at China's exploding cities, where a new type of society is being born from a bizarre amalgam of command-and-control politics and unfettered capitalist economics. They call it "socialism with Chinese characteristics."
Since the 1980s, China has mobilized a construction force as large as the entire population of California. These workers have trebled the number of Chinese cities to 700, more than 100 of which have populations of greater than one million.
China is consuming half of the planet's concrete and steel production annually to remake itself as a world economic power, reproducing much of what is most deplorable about modern cities in the process. China's cities are also rapidly sprawling across the landscape, churning precious farmland into a landscape of superblock housing estates and single-family subdivisions laced with highways and big-box malls
Greenhouse Gas Emissions
China's carbon dioxide emissions per capita is also relatively low compared to developed countries and China has not contributed much to climate change because of its short history as an industrial nation, said Su Wei, the chief negotiator of China for climate change talks in Copenhagen. The country's carbon dioxide emissions per capita is also relatively low compared to developed countries and China has not contributed much to climate change because of its short history as an industrial nation, he said. However, China has been the world's largest emitter of greenhouse gases each year since 2006, leading the United States by an ever-widening margin.
The Chinese government said in November it would reduce the amount of carbon dioxide, the main greenhouse gas from human activity, emitted to make each unit of national income by 40 to 45 percent by 2020, compared with 2005 levels.
That goal would let China's greenhouse gas emissions keep rising, but more slowly than its rapid economic growth. Beijing does not release any recent official emissions data. A failure by China to meet its own energy efficiency targets would be a big setback for international efforts to limit such emissions.
A leading Chinese government adviser has criticised the gap between Kevin Rudd's action and rhetoric on climate change, saying he has reduced the chance that the world can curb global warming before it is too late. ''If he gives up on the ETS it suggests Australia will do nothing and the private sector will get the signal not to do anything to cut emissions,'' said Professor Pan, director of the Research Centre for Sustainable Development at the Chinese Academy of Social Sciences.
Water
China, with 1.26 billion people, is the one area worrying most people most of the time, says Marq de Villiers, author of the recently published Water . In dry Northern China, he says, the water table is dropping one meter per year due to overpumping, and the Chinese admit that 300 cities are running short. They are diverting water from agriculture and farmers are going out of business. Some Chinese rivers are so polluted with heavy metals that they can't be used for irrigation, he adds.
"They're disgraceful, unusable, industrial sewers," says de Villiers. As farmers go out of business, China will have to import more food.
The benevolent dragon is turning into a malignant global force!
[1] China's agricultural and rural development in the early 21st century
Edited by: Bernard H. Sonntag, Jikun Huang, Scott Rozelle and John H. Skerritt
ACIAR Monograph No. 116 (Printed version published in 2005)