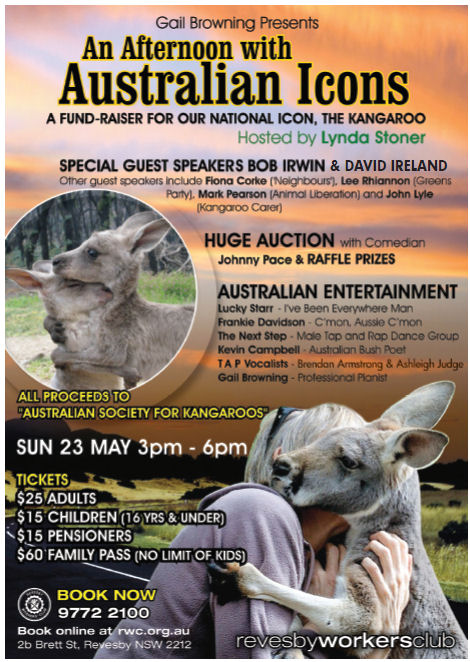 Bob Irwin stands up for kangaroos
Bob Irwin, the late Steve Irwin's father, will be the special guest speaker at "An Afternoon with Australian Icons", an event organised by Gail Browning to raise money to help wild kangaroos. Indeed the event really does sound like quite a remarkable Aussie evening, mixing outback with working class and wildlife carers. Overseas tourists might like to book in order to experience something important and non-commercial, in the cause of our wildlife for whom the Australian government and their friends seem not to give a toss. The event will be at the Revesby Workers Club, 2b Brett St, Revesby, Sydney on Sunday 23 May 2010 from 3-6pm.
Singing, dancing, music, speeches, auctioning to save kangaroos
The event will be a wonderful day of singing, dancing, music, speeches, auctioning as well as a great opportunity to get together and celebrate our united front to save our kangaroos.
It is supported by Animal Liberation, The Greens, The Wilderness Society, World League for Protection Animals, Sydney Wildlife, Sydney Pet Rescue, Animals Australia, Voiceless, WWF, The Kindness Society (Sydney), WIRES, Greenpeace (Syd Office), Vegan Society.
(And, of course, candobetter.org also supports it.)
Items listed for sale at the auction include:
1.One week accommodation in Shoal Bay, 2kms from Nelson's Bay, near Newcastle NSW, for 5 people in beach front unit.
2. Original Ken Done painting- "Morning Glories in Opal Vase" valued at over $3,500 donated by Ken Done especially to help animals.
3. A 9 carat yellow gold framed kangaroo pendant, with diamonds and white gold kangaroo, on a yellow gold chain.. One of a kind, designed by Alwyn Scott.
4.A Designer League bowling ball, 16 pounds, peach colour.
5. Kangaroo t/shirt signed by all the Australian Icons attending the event.
6.Large frame containing 4 photos, including mob of Eastern Grey kangaroos , mother and joey, and 2 individuals, photographed at Pebbly Beach and Murramorang National Park, on NSW South coast.
7.Steve Waugh's autobiography book signed, hard cover called "Out of My comfort Zone".
8.Australia's First Selective Gold plated $1 Kangaroo Coin. This special coin has been issued to celebrate the 2nd decade of Australia's internationally acclaimed $1 Silver Kangaroo Series, in 2003.
9. A pair of Abstract Art Works called "Rock Paintings" by Australian Artist Faye Leister
10. A Basket of National Zoo and Wildlife Sanctuary Passes from all over Australia, including Canberra, Perth, Featherdale , Currumbin and more.
11. Portrait of a kangaroo by Maureen Klees
12. Painting of magnificent gorges in spectacular Karijini National Park in Western Australia . Artist: Marion Pender.
Silent auction:
4 Deni Hines CDs and DVDs including Deni Hines and James Morrison, Christine Anu and Deni hines, plus "deni hines water and chocolate', signed CD.
ALL PROCEEDS TO THE AUSTRALIAN SOCIETY OF KANGAROOS (ASK)