The Stable Population Party Australia is reaching out to members and sympathisers in a series of networking events across Australia. Should be interesting and fun to meet like-minded people and help to organise a coordinated electoral response to the growth lobby that has taken over our country. (Candobetter Ed.)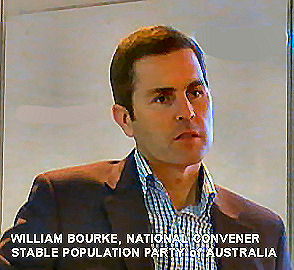 Invitation to all sympathisers
A message from William Bourke, National Convenor of Stable Population Party of Australia:
We'd like to welcome members and non-member supporters to Stable Population Party networking events across Australia.
These social events present a great opportunity to engage with like-minded people on sustainability and population matters.
Each event will run for around 3 hours & include:
- Party update
- Opportunity to meet current candidates
- Opportunity to meet state coordinators to discuss policies, campaign support and expressions of interest in candidature
- Opportunity to purchase lunch/dinner & beverages
Details:
NSW
12pm on Saturday 2 June @ Edinburgh Castle Hotel, Sydney (L1, Lounge Bar):
http://www.edinburghcastlehotel.com.au
Queensland
6pm on Friday 8 June @ E'cco Bar, Brisbane:
http://www.eccobistro.com/ecco-bar.html
Victoria
12pm on Saturday 16 June @ Richmond Club Hotel, Richmond (L1, Balcony Bar):
http://www.richmondclubhotel.com.au
WA
12pm on Saturday 23 June @ The Court Hotel:
ACT
12pm on Sunday 24 June @ The Kingston Hotel (Red Room):
73 Canberra Avenue, Kingston
For planning purposes, please RSVP ASAP by replying to this eNews or contact us through our website: CLICK HERE
Networking events: NT, SA & Tas
Would you like to attend a networking event in Darwin, Adelaide or Tasmania in July?
If so please contact us ASAP to express your interest. You can reply to this eNews or contact us through our website: CLICK HERE
Your support is vital...
Our grassroots community party relies on its members and supporters to make these events a success. We look forward to seeing you there!
Kind regards
William Bourke
National Convenor
On behalf of the national committee
STABLE POPULATION PARTY
www.populationparty.org.au
Like us on Facebook:
www.facebook.com/populationparty
Follow us on Twitter:
www.twitter.com/populationparty