People concerned about Harkaway, in the Green Wedge, near Berwick are asking for your help to stop development ruining this lovely area. Why don't you write to the Minister too and plead with him to say "NO." Submissions urgently needed before 5pm on 6 November. Subject: Proposed Rosemaur development for King Road Harkaway, Email to: [email protected] Details inside article.
To all who care about preserving special places like Harkaway and their green wedge surrounds: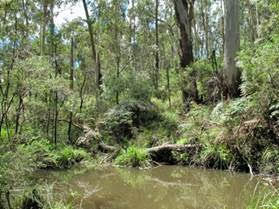 Harkaway is a hidden gem tucked away in the rolling foothills to the Dandenong Ranges just north of Berwick in the City of Casey. Until now, State Governments of both "colours" have agreed it should be sacrosanct - a "no go" zone for urban use development.
Wealthy Melbourne businessman Lindsay Hogg wants Planning Minister Richard Wynne to rezone his property in the middle of Harkaway's precious Green Wedge land to enable an otherwise prohibited development including a restaurant, function centre and art gallery.


We are not against the concept, but looked at from every angle, this is the wrong location. It would bring large volumes of regular traffic into a dead end, high fire risk area, right through the tiny hamlet.
The local community will be subjected to this onslaught seven days a week, from 7am through to 1am Friday/Saturday, and until 11pm for the other five days, including Sunday.
Lunch patrons who have "wined and dined" would be passing the primary school where two cars can't get by each other at pick up time, and there is no scope for widening. Many children walk or ride bikes to and from school or to the shop, park, tennis courts and playground, especially at weekends.
The change that would result from such a rezoning would be enormous and irreversible. The bushland and rural character of King Road would be transformed into an urbanised streetscape, with significant potential for environmental damage to Walsdorf Creek and increased traffic accidents.


The local community is united against this development, but its voice is drowned out by the media campaign of Mr Hogg's PR team which is presenting the application as a "fait accompli".
The Planning Minister is seeking feedback on the proposal.
Please refer to the attached information sheet to help you provide it - loud and clear.
Save the Casey Foothills Association is joining forces with the Friends of Harkaway Association and the Harkaway Residents Group to try and prevent what would be a grotesque anomaly in this location.
There are far better alternative site options that would result in an improved outcome for the venture.
Please make a submission before 6 November and help prevent this potential catastrophe.
Or if you miss this deadline, please email it direct to the Minister.
Political pressure is the only way to protect our increasingly threatened special places from assault by powerful monied forces with their own agendas.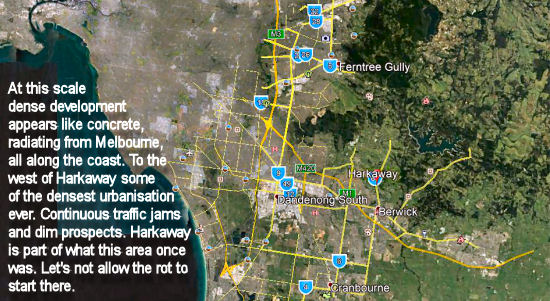 HARKAWAY & ITS GREEN WEDGE ARE UNDER SERIOUS IMMINENT THREAT
From what?
A SITE SPECIFIC AMENDMENT TO THE CASEY PLANNING SCHEME BY THE PLANNING MINISTER TO REZONE ONE PROPERTY IN THE MIDDLE OF HARKAWAY'S PRECIOUS GREEN WEDGE LAND.
For what purpose?
TO ENABLE AN OTHERWISE PROHIBITED LARGE SCALE URBAN DEVELOPMENT IN KING ROAD – NAMELY AN ART GALLERY, FUNCTION CENTRE, RESTAURANT AND TWO DWELLINGS.
What can I do?
MAKE A SUBMISSION BEFORE THE CLOSING DATE (See below for details)
What is the time frame?
SUBMISSIONS NOW ACCEPTED UNTIL 5:00 PM, FRIDAY 6 NOVEMBER 2020.
The Government had given the neighbours only 4 weeks' notice & has not advised the village or other outlying residents at all. An extension of 3 months was sought. We got an extra 2 weeks.
How can I get more information?
Google "Rosemaur Gallery". Select "Planning", then "Documents" tab, OR type into your Search bar https://www.planning.vic.gov.au/policy-and-strategy/rosemaur-gallery#documents, or just click on the link below:
https://www.planning.vic.gov.au/policy-and-strategy/rosemaur-gallery#documents
Who to contact if I have a question?
State planning department: Hayley Becker – Manager Planning Services (South) Ph: 0423 491 851
Local community rep: Philip Battye Mob: 0407 012 006 Email: [email protected]
Green Wedges rep: Rosalie Counsell Mob: 0429 955 421 Email: [email protected]
What are the main issues? (See "Further Considerations" below for expanded list)
Planned large volumes of related traffic will be funnelled through the village past its primary school.
Widening and sealing King Road would:
o Destroy the character and identity of Harkaway as a country hamlet in a semi-rural bushland setting;
o Risk damage to the environmentally sensitive Waldorf Creek.
The site is in an increasingly high fire risk area at the far extremity of a dead end road.
The only escape route would entail annexing and sealing the equestrian trail, thus turning both King Road Harkaway and Farm Lane Berwick into through roads.
The proposal contradicts the very purpose of the existence of the green wedges and makes a mockery of the Planning Minister's promise to further protect them.
What next? How to make a submission
Email your submission to: [email protected]
(This can be addressed to Mr Stuart Menzies, Director - State Planning Services and Cc'd to the Planning Minister: [email protected])
Remember – one sentence is better than nothing. Just say what you want to say in your own words, and you'll be able to expand on or speak to this for the Panel Hearing, currently scheduled for next January 2021, should you wish to do so.
Further considerations
For over 20 years, our local residents have fought and won numerous battles to protect Harkaway's special environmental and amenity values. On each occasion, State Government has supported the contention that these values must be preserved at all costs and Harkaway deemed sacrosanct.
Never before has our community been disenfranchised by Government in this way.
This application constitutes complete disregard for local community and for democratic process.
o People who live in and/or regularly visit the village of Harkaway would be as adversely affected as anyone else but were not notified.
o The short time frame and failure to consult affected parties raises the question of undue influence, or at best, democracy being compromised in the interests of misguided economic expediency.
Harkaway Road itself is fairly narrow and winding. It's intersection with King Road is dangerous, despite the very small, inadequate roundabout. (No room for bigger one.)
The in-principle acceptance of the application is claimed to be partly based on the supposed value of the art collection. But it appears there has been no proper assessment of its real value. Regardless, this should not drive a planning decision.
The whole district is a Designated Bushfire Prone Area, and an estimated 40% of site is subject to the even more restrictive Bushfire Management Overlay.
There are no reticulated services in the area except electricity.
Harkaway's 175 year old history, it's unspoiled non-urban character, its wonderful landscapes and its high-value biodiversity should qualify the whole area as having State significance. Any suggestion that an inappropriately located art gallery and function centre could trump this is a nonsense.
The direct intervention by the Planning Minister Richard Wynne:
Flouts proper planning protocols by unjustifiably bypassing local council as the primary decision-maker on changes to the Planning Scheme.
Contradicts the very purpose of the existence of the green wedge zones.
Sets a dangerous precedent for future similar damaging applications.
Pre-empts and undermines a current Government review that aims to further strengthen protections in the Green Wedge zones.
Provides a massive concession to the proponent but inflicts enormous detriment on the local community. (Note: The applicant has registered as a charity, so will presumably be exempt from certain rates and taxes.)
Flies in the face of his stated intention not to intervene in local planning decisions.
If Casey Council and the Victorian Government preside over the wanton squandering of this unique, widely treasured asset that is Harkaway – "the jewel in Casey's crown" – for the sake of an inappropriately located, wildly experimental, fragmenting development on the basis of a nebulous promise by a vested interest landowner living elsewhere, it will go down in Casey's history as an outrage second only to the findings of the IBAC enquiry.
Harkaway needs your help. We can't fight this David & Goliath battle alone.