Pigs are intelligent animals that have strong bonds with each other. They endure miserable lives to make pork and bacon products cheaper.
Unfortunately Codes of Practice little to provide animal welfare for pigs. They have little maternal attention and are weaned early. Not only are intensive farms places of animal slavery and cruelty, but of land, water and air pollution. The screams of pigs can be heard in Castlemaine when they are slaughtered - workers use ear muffs. They know their fate and can smell Death! Making pork and ham "more affordable" means that pigs do not get many concessions. If people paid fully for organic and free-range meat less livestock would be eaten and it is livestock that contribute to much of our greenhouse gases and water wastage in Australia.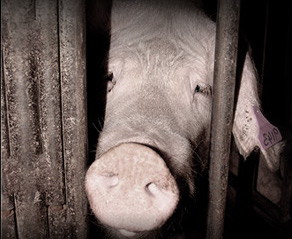 These intelligent animals don't get a chance to make many decisions in life, or have many choices. Their short lives are full of pain, from mutilations without pain relief, and constant deprivations. They are known to turn cannibalistic and eat each others' tails due to the sheer misery and stress in their short lives. Thus their tails are removed!
Pigs are really active and inquisitive animals. They need plenty of room. Those raised in factory-conditions, in concentration-camp conditions, suffer horrendously from deprivation and activity. Pregnant sows are pinned into sow-stall for up to 16 weeks without being able to move or lie down - all allowed by the Codes of Practice. These comic and intelligent animals are so ridiculed and abused by humans who only see them as a food source. Pigs are thought to be as least as intelligent as a 3 year old child, and can learn to play video games! If you love animals, avoid eating them!
See also: www.savebabe.com, Secrets of the pork industry revealed.
What you can do: Help pay for a radio advertising campaign against this cruelty by visiting www.animalsaustralia.org/lucy_speaks.