Labor MP David Bradbury must correct error riddled conservation funding announcement (NSW), says Geoff Brown, Stable Population Party candidate. Mr Brown, who is a New South Wales natural conservation activist, has long fought to retain Cumberland plain woodland against attempts by governments to allow it to be destroyed for massive suburban developments. He believes now that the ALP has tried to take credit for his concept of the Cumberland Conservation Corridor. Geoff is running as a candidate for the Stable Population Party.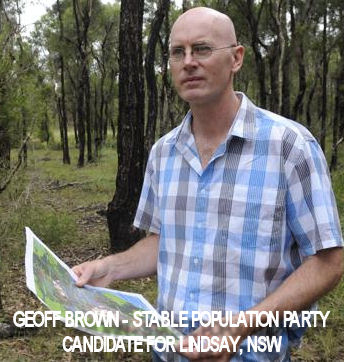 Mark Butler, the Federal Environment Minister, and David Bradbury, Labor member for Lindsay and the Assistant Treasurer, have been called on by Geoff Brown, the Stable Population Party candidate for Lindsay, to set the voters of Lindsay straight, after Lindsay's leading local newspaper, the Penrith Press, printed a half page story riddled with errors and misinformation about Labors 2010 federal election commitment of $7.5 million towards the establishment of the Cumberland Conservation Corridor.
Geoff Brown, also the President of the Western Sydney Conservation Alliance, developed the concept for the Cumberland Conservation Corridor in 2005, and at the 2010 election ran as an Independent using preference negotiations with Labor and Liberal to extract the $7.5 million deal from Labor. So he is on top of this issue. Several articles published by candobetter.net show his record on this matter. See Cumberland plain woodland and Geoff Brown.
Brown described himself as "livid" when he read the Penrith Press article which erroneously stated that Labor had announced $7.5m towards establishing the Cumberland Conservation Corridor. He said the article made it look as if Labor had just made some new 2013 committment. He said the voters of Linsay would be confused.
"The story should have been about why it took 3 years to fulfill their 2010 commitment. The article was littered with errors based on the dubious media release put out by David Bradbury and Mark Butler. If not corrected it will let Labor off the hook in Lindsay from announcing any new local conservation funding outcomes for the 2013 election. Labor may try to fudge their way out of it".
Geoff Brown called on David Bradbury and Mark Butler to front the voters of Lindsay and tell them:
" - That neither Labor nor Liberals have yet promised any new conservation money in Lindsay for the 2013 election
- The announcement cited by the Penrith Press was from the 2010 election and it took 3 years to cobble together an outcome
- The Mulgoa biobanking site stays in private ownership so will not become part of the publicly owned Mulgoa Nature Reserve. So no net public benefit or use for education
- The Mulgoa site was never at threat of development and was already protected under Penrith Councils LEP which zones it E2 Environmental Conservation (I argued that money be better spent trying to conserve bushland in Penriths north at risk of development)
- That nearly half of the $7.5 million was spent on land care projects that are outside the Lindsay electorate and nowhere near the proposed Cumberland Conservation Corridor. Projects such as those in the Blue Mountains and the Cranebrook wetland project are not anywhere near the CCC
- That $3.4 million funding for weed removal and the planting trees is exactly what Tony Abbott proposes with his Green Army and Direct Action policy. This outcome condones the Liberals policy
- That 2000 ha of local bush land has not been protected (David's MR and his letterbox propaganda claims he has saved 2000 ha of local bush land. He is claiming to have protected the 558 ha Airservices Australia land at Shanes Park and 1300 ha of bush at the Orchard Hillls Defence Establishment. These sites are not formally protected. Shanes Park has the proposed Castlereagh Freeway running through it)
- That biobanking is a scheme whereby there is a net loss of habitat. Bushland gets bulldozed with developers offsetting that clearing by funding the management of bushland elsewhere. In this case the State funding came from the clearing of critically endangered bushland in the Sydney Growth Centres. It is a highly dubious method of conserving nature.
- That the land owner is not raising his income from selling the biobanking credits. He gets a guaranteed $6.6 million as the joint Federal and State funding has already purchased the credits."
Labor caught out moving the fence posts
Geoff Brown added that Labor has been caught out trying to change the location of the Cumberland Conservation Corridor. As an example he cited the wetlands at Cranebrook near the Waterside housing estate as being 'nowhere near' the CCC."
Mr Brown says that Lindsay voters need to be aware that Labor has not yet committed any new money towards conserving bushland within the Cumberland Conservation Corridor.
Mr Brown met last week with Mark Butler and David Bradbury calling on them to fund the protection of 1500 ha of Priority Conservation Land north of the ADI Site that is threatened. He says that the 50 ha of Mulgoa land was already zoned for protection but this 1500 ha of bushland has no such conservation zoning.
In his opinion, the only way it will be zoned for conservation by Penrith Council is if there is money on the table to buy it.
"The voters of Lindsay need to join with the Stable Population Party in calling on Labor and Liberal to commit to protecting this land."
A better, not a bigger Australia
Mr Brown concluded by saying that to his knowledge, the Stable Population Party is the only minor political party in Lindsay actively lobbying Labor and Liberal about protecting the environment and limiting more urban sprawl and traffic congestion. He said that voters could rest assured that the Stable Population Party stands for a better not a bigger Australia.