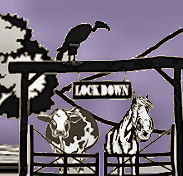 This is an allegorical poem about some creatures on a farm during a covid-like lockdown.
THE BARNYARD'S ARK by Sandra Garnier
Once upon a time in a land of endless sunrises and sunsets …
There lived a barnyard of animals
Of all descriptions, some large and some small
Some short and some tall.
They made up the barnyard family,
Amid the laughter, fun, and calamity
Which sometimes occurred, when hearts were ripped and lips were furled
Little spats, here and there, "That's my corner, that's my lair!"
And even though the community had been given a strong moral code
It was tremendously hard, as they were carrying such a large load
Being penned in by fences, and ditches, and shut up at night
They couldn't go out or even fly a kite
For the gatekeeper appeared each day of the week
To keep orders in place, to keep everything neat
To safeguard the animals from the perils which lay outside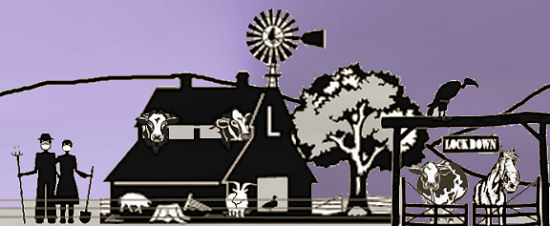 Where none were safe, and there was nowhere to hide.
All he could offer them was a grain of protective feed
Some took it eagerly, some didn't see the need
Some protested and voiced their fear
What were the effects, today, or in a year?
The gatekeeper kept to his script to conform
To keep the status quo, to not waver, from the norm
But the barnyard animals had been locked in for so long
They had forgotten the music, stopped singing their song.
Some of the animals even touted angry, screwed-up faces,
While others walked stooped, tears flooding onto untied laces
Some animals escaped. They wanted change
They wanted to have everything open and welcoming once again
Some animals mused, Is this confinement just a long drawn-out dream?
Many concluding life is not always as it seems.
The gatekeeper reminded the discouraged ones
That there was still hope, when all was said and done
They will soon be free, lying out under the sun
But that was of little comfort to hearts heavy with grief
Their life had been stolen, and they wanted to catch the thief
To make him pay, to take a famous line, 'to make their day.'
Two sides emerged from this barnyard submerged
Both vexed and with a spirit of right
They wanted their say, they wanted to fight
For their freedom
It was a sorrowful sight
For they were once all friends,
Now enemies from storms of hype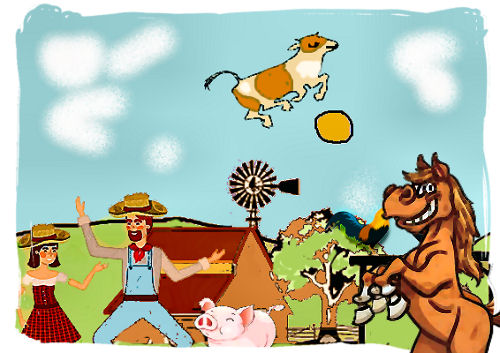 One golden day, at an unexpected time
The gatekeeper opened the gates, announcing you will all be fine
Go out and experience freedom, you must no longer get in line
The barnyard animals reacted, in voices loud and clear
This is the beginning of a new time, where there is no fear
The rejoicing continued, some scratching the dirt to their heart's content
Some rolling in mud, kicking with glee, content not to vent
Some ran through the meadows, seeking connection with a new love
Some got down on their knees, praising the sun's warming rays above
While some reunited with family, where happy tears were now the norm,
Having survived the wind and hail, form the bitter, long-lasting storm
Some danced in the streets, exuding a large-toothed grin
Blaring music, voicing their freedom without sin
It was a wonderful new day, when the sunrise rose from her sleepy slumber
They had all come through the abyss, landing in freedom down under
The endless months had not all been in vain, things were no longer the same
For each one had been given a gift, a precious insightful light
An awakening of new sight
The animals had come to recognize their values so dear
They had come to appreciate their family, now so near
Some had reflected, and seen life anew
Some were determined to set sail with a new crew
For having been through the chaos, pain, and the grief,
There now was contentment, joy and relief