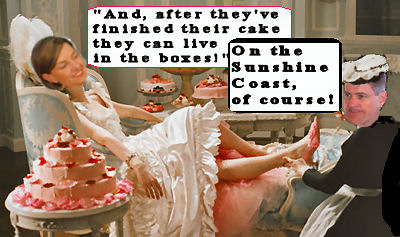 Today (6 Jan 2010) in the Queensland Courrier Mail, http://www.sunshinecoastdaily.com.au/story/2010/01/06/bligh-delivers-a-farce/ Bill Hoffman has written a robust opinion piece entitled, "Bligh delivers a farce".
Queensland's Marie-Antoinette Government
Pointing to the Queensland Government's forcing the Sunshine Coast Council to cooperate with the development of three sites, "owned by less than a handful of property development companies," Hoffman accuses the government of hiding behind the need of low-income families for housing in order to excuse unaffordable and environmentally damaging developments.
Queensland's Deceptively named Sustainable Planning Act
"Current infrastructure and planning minister, and former Property Council advisor, Stirling Hinchliffe[candobetter ed's emphasis] has been given unprecedented power under Queensland's new and equally deceptively named Sustainable Planning Act, which was introduced in late December, 2009, to ride roughshod as he chooses over local government planning objectives."
He criticises the Queensland Government for allowing developers to buy up land with the intention of developing it, but holding on to it until the price goes up.
"A simple use-it-or-lose-it provision as a condition of approval would have at least guaranteed the articulated intent of the policy," he writes.
He describes how hypocritical this in the light of Kevin Rudd's early comments about combating the obscenity of homelessness. Today, however, about 100,000 Australians are estimated to be homeless in any week.
"The Affordable Housing Strategy has delivered an estimated $1 billion to the bottom line of just one property company," Hoffman ells us.
And he asks why "the unions, students, church groups, lawyers and community groups" aren't on the streets demanding an end to the farce."
Why the unions, churches, students, lawyers say nothing about this shame and destruction
I think I know why. They unions and church groups have invested their funds in property development; the lawyers make money out of conveyancing; many students are studying to be planners and won't pass or be employed by developers or the government if they stand up against corruption in development and population-building; and the community groups are disorganised through immigration, pace of projects, and poor information and communication, since they tend to rely on newspapers, tv and government for news. (This Hoffman article is a bit of an exception to that). Of course, if he is talking about mainstream environmental groups, well, most of them get grants from the government and their staff want to keep their positions.
Hoffman also says, "There is little the electorate can do about this having voted Labor back in at last year's early poll, which was called before all the bad news began to filter out. ..."
Not true that people can do nothing
People can do something. Instantly! They can sign this petition calling for the government to resign:Sign here
How about a groundswell?
Here it is:
"Queensland citizens draws to the attention of the House the Queensland public, the rightful owners of $15 billion worth of assets which are to be sold, were denied any say over this because of the failure of the Queensland
government to reveal those plans during the course of the elections. We consider the stated intention of the government to proceed with the sale in the face of opinion polls, which show at least 80% public opposition, to be
amongst the most serious breaches of public trust imaginable.
"Your petitioners, therefore, request the House to call upon the Queensland government to resign immediately to give the Queensland public a chance to elect a new Government which can gain its trust. Your petitioners also warn any private investors considering buying the assets, not to do so and call upon a future State government which does enjoy the trust and confidence of the Queensland people not to honour any such contracts for the sale of assets. "
"If this means having a LNP Government led by John-Paul Langbroek in office instead, that certainly seems preferable to the continued misrule by this crowd,"says its author, James Sinnamon. (See coming article from James Sinnamon).