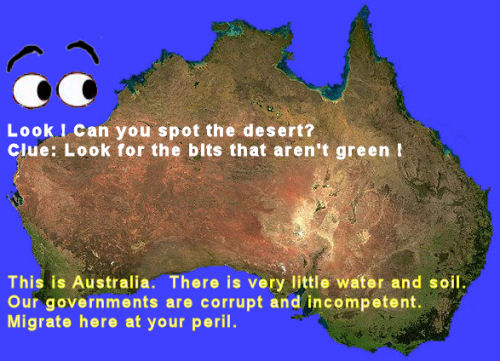 Let's talk about the national anthem: We do not have boundless plains to share!
Australia's national anthem is outdated,
incorrect and should be changed according to the environment group Sustainable Population Australia (SPA).
National President of SPA, Sandra Kanck, says "If we pause on Australia Day to reflect on our identity, our thoughts should turn to reforming the anthem. It is an absolute nonsense to say that this continent has boundless plains to share, as is claimed in the second verse of the anthem.
"This is deceptive advertising," she says. "Anyone one enquiring about the offer might find their choice was between the Hay Plain and the Nullarbor Plain.
"Our soil is not golden – it is in fact old, thin and lacking fertility. Every dust-storm blows more precious top-soil out to sea. Only six percent of our land is arable, and we are progressively building over much of that six percent.
"If we ever did have an abundance of 'nature's gifts' we have made a mockery of them with our shocking record on mammal extinctions.
"We have so little respect for the seas with which we are 'girt' that we pollute them with run-off, and within those same seas we are overfishing towards extinction of the marine life.
"We have so little regard for this land that we have overloaded it with human beings. Hence, we are fast destroying our rivers and forests and reducing our biodiversity.
"Reflecting on the words of our national anthem might help us take stock and recognise what has already been destroyed, and what might be saved.
"But we cannot in conscience continue to sing these words with any pride because so many of them are untrue.
"If we continue using Advance Australia Fair then we must at least change the line 'We've boundless plains to share'. Boundless they may be, but with no shade and temperatures above 45 degrees in summer, no water, and empty salt pans that deceptively look like lakes on our maps, these plains are not habitable.
"Let's have a national anthem that reflects our aspirations and that sings of Australia's unique natural assets but, also, let's not lie to the world about their nature" said Ms Kanck.