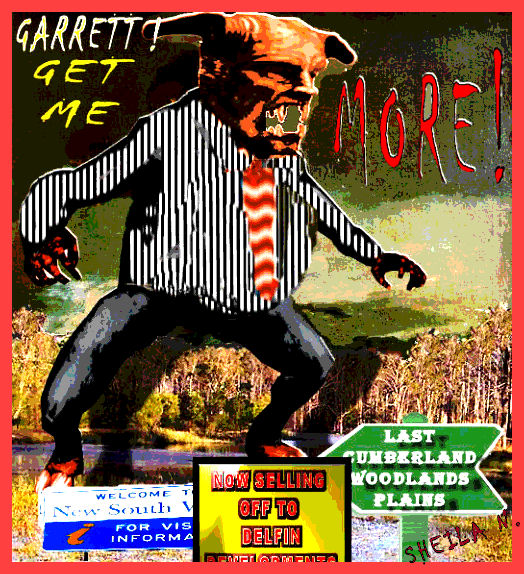 ADI Site -

Vandals prevail
Bulldozing of rare bushland signals the beginning of the end for Western Sydney's last great bushland remnants. Vandals prevail in New South Wales, reducing to rubble the equivalent of nature's great monasteries and old churches, for short term gain by a tiny tyrannical minority. This scourge is led for the profit of Delfin Developments, against democracy and the local people who love their living landscape.
JK Williams Bulldozers roll over precious woodland habitat
Bulldozers today rolled at the ADI Site in Penrith clearing 6 hectares of the critically endangered ecological community, Cumberland Plain Woodland. The clearing by J K Williams on behalf of developer, Delfin Lend Lease, is the first of 6ha of a total of 360 ha within the Penrith LGA. 3500 lots dwellings, with some up to 6 stories are proposed.
Garrett protects malignant growth lobby project
The news of the clearing has been met with sadness by the many opponents of the development. Recently they called on Peter Garrett the Federal Environment Minister to intervene in the imminent clearing. Peter Garrett was called on to act to overturn a dubious approval decision by the former Howard Govt in 2002 that allows Delfin Lend Lease immunity from Peter Garrett's Federal Environmental Law. Meaning they do not have to refer any development proposals to the Federal Minister for assessment. Peter Garrett was asked to consider, as he is allowed to do under section 207A of his federal environment law, to list additional areas of the sites critically endangered CPW as Critical Habitat.
But correspondence recently received from the Minister in response to that call from the Western Sydney Conservation Alliance indicated a complete lack of political will and an unwillingness to interfere in Delfins development plans.
Geoff Brown, President of the Western Sydney Conservation Alliance Inc., said,
"Peter Garrett could of acted, he has the capacity under his legislation to intervene, but he has turned his back on us and our environment. The reality though is he is just one of many of our political leaders that have done the same. The same is true of Kristina Kenneally who had the opportunity when she was Planning Minister to amend the ADI Site zoning plan. She was called on by WSCA to rezone CPW at the site from urban to conservation. She ignored our calls. So sorry is this ADI story is that the finger of blame must be pointed at hundreds of political leaders across all levels of government. This has been a shameful chapter in the history of Western Sydney one which its residents should never forget".
Keep fighting for what is right!
Brown added:
"People should never give up though. This is just 6 ha's and there are many more approval processes that Delfin need to get in order to get their way. We must take a stand and say enough is enough. In this day and age we should never accept housing that comes at the cost of our critically endangered natural heritage. Everyone should pick up their phones today and speak directly to their local elected representative from Council, State and Federal Government to let them know enough, its just not on anymore. What is happening here at ADI is the thin edge of the wedge and unless we collectively say no to the overdevelopment of our suburbs, this development cancer will move right across Western Sydney and before we know it we will have no bushland, no rural areas and another million people to cope with."
Merciless Moonscaping
Only one tree appears to have been left on the 6 ha site. The massive bulldozers of JK Williams, a local civil engineering firm, remain on the site ready to resume earth works on Thursday
Comments attributed to Geoff Brown President of the Western Sydney Conservation Alliance Inc
0431 222602
www.wsca.org.au
Western Sydney Conservation Alliance
Wednesday 28th April 2010