The Center for Biological Diversity has a very successful campaign linking human population growth to other species loss. They sell "Endangered species condoms." Their creative approach has now been independently recognised by, of all things, the American Advertising Federation. Good on them!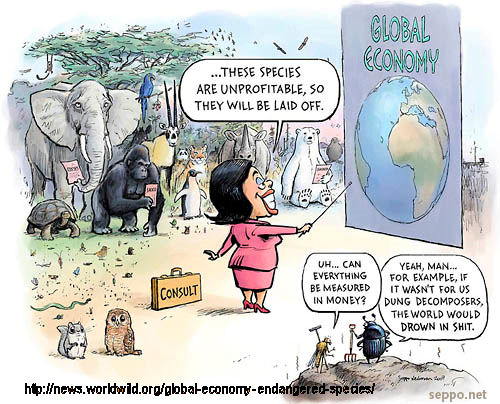 Our wildly popular Endangered Species Condoms are getting some additional love. This week we found out the colorfully packaged condoms, part of our campaign highlighting the connection between overpopulation and species extinction, won the American Advertising Federation's gold ADDY Award in Tucson in the "public service" category. In case you haven't seen them, the nifty condom packages feature illustrations of six different endangered species, along with catchy slogans like "Cover your tweedle, save the burying beetle" and "Wear a jimmy hat, save the big cat." The Center handed out 350,0000 condoms last year and hopes to send more out soon to draw attention to this crucial issue. Through the empowerment of women, education of all people and universal access to birth control, we can curb our population to an ecologically safe level.
But some members of Congress are making that very hard. In fact, the House has just passed a bill to cut government funding for critical programs like women's health clinics -- which for millions of people provide the only available access to reproductive services, family planning and birth control. With this February marking Global Population Speak Out month, it's time to tell our elected representatives they should be expanding those programs, not cutting them -- for the sake of our planet and the public.
Check out our Endangered Species Condoms Project and sign the GPSO pledge. Then learn more about the legislative attack on family-planning services from politico.com and contact your senators asking them to counter it. (Ed. Actually www.politico.com doesn't appear to have any directly accessible information on this subject.)
The Center for Biological Diversity
[The following material comes directly from the Center for Biological Diversity.]
Through a network of more than 5,000 volunteers, in 2010 the Center for Biological Diversity distributed 350,000 free Endangered Species Condoms in all 50 states — as well as Canada, Puerto Rico, and Mexico — to highlight how unsustainable human population growth is driving species extinct at a cataclysmic rate.
The earth's population has nearly doubled since the original Earth Day in 1970. In those days, it was well understood that human overpopulation was causing the many environmental challenges cropping up around the world. Now, with the passing of the 40th anniversary of the original Earth Day, unsustainable human population growth is too often ignored, even though it continues to drive all the major environmental problems that plague our planet.
At 6.9 billion people, the human race is not only the most populous large mammal on Earth but the most populous large mammal that has ever existed. Providing for the needs and wants of this many people — especially those in high-consumption, first-world nations — has pushed homo sapiens to absorb 50 percent of the planet's freshwater and develop 50 percent of its landmass. As a result, other species are running out of places to live.
Human overpopulation is the driving force behind the current mass-extinction crisis, endangering:
• 12 percent of mammals
• 12 percent of birds
• 31 percent of reptiles
• 30 percent of amphibians
• 37 percent of fish
To help people understand the impact of overpopulation on other species, and to give them a chance to take action in their own lives, the Center is distributing free packets of Endangered Species Condoms depicting six separate species: the polar bear, snail darter, spotted owl, American burying beetle, jaguar, and coquí guajón rock frog.
The beautifully designed packages, featuring clever slogans, are being distributed by a network of 5,000 volunteers ranging from ministers to grandmothers to healthcare providers to college students and biologists. The condoms will be handed out at concerts, bars, universities, spiritual groups, local events, and farmer's markets. Along with two condoms, each package contains original artwork and information on the species, facts about overpopulation and the extinction crisis, and suggestions on how the human population can be stabilized.
To help ensure a world that is livable for other species — and healthy and prosperous for us — practice responsible reproduction and learn more about the Center's campaign to address overpopulation.