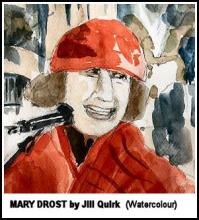 Mary Drost's 90th birthday party took place on 13 October 2021, while Melbourne was still in Lockdown, but you could meet in the open air if you wore masks and were within 20km of your home. I was unable to attend because it was out of my 20km range.
The reporting on this significant event has been delayed for about two months due to our need at Candobetter to drop just about everything in order to urgently upgrade and transform WeCandobetter's platform and find it a new home. During this very slow and stressful transformation, our production of articles ground to a standstill. I had Jill Quirk's quirky portrait of Mary Drost and photos of the birthday party in the park, but nowhere to publish them. Given the Lockdown limitations, Mary Drost's birthday was still quite an event.
Held in Fawkner Park, those present wore masks and kept their distance, except to eat cake and pose for some photos. The guests included B. McNicholas (Walk in St. Kilda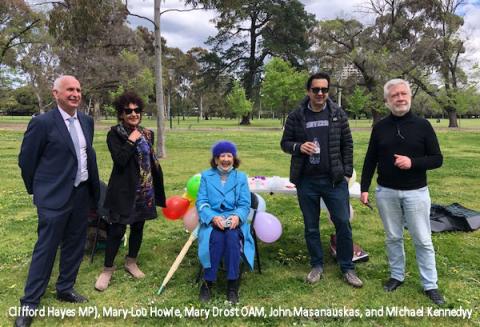 Road and Environs),Clifford Hayes MP (Sustainable Australia Party), Mary-Lou Howie, (President of Friends of Queen Victoria Market), Mary Drost OAM, John Masanauskas (Herald Sun journalist), Michael Kennedy (Coalition of Residents and Business Associations), and Jill Quirk (Protectors of Public Lands Victoria and Artist) who took the photos.
B. McNicholas brought a spectacular cake, known as a 'Con Amore'. It was described to me, in my absence, as a  'luscious dark chocolate and raspberry mousse cake, with a vanilla crème brulee centre, and a thin chocolate and orange cake base, with a layer of raspberry jam'. 
A few of us had had discussions with Mary Drost about a successor to her role as Convenor for Planning Backlash, prompted by her upcoming big birthday. It's a huge task.  On 25th of November, she finally handed over the reins and, in fact, the whole horse, to Kelvin Thomson, former Member of Parliament for Wills, who has a long history of concern and involvement in matters concerning environment, overpopulation, overdevelopment, and democracy. 
Mary Drost did remarkable things during her convening of Planning Backlash, which began with her letterboxing in Camberwell in 2003.  The reader has only to click on the link, Planning Backlash to see a record of land-mark democratic events that goes back years. Many of us first came to know of Mary through the Marvellous Melbourne website that was launched with demonstrations against development intensification around Camberwell Station in 2004, with the brave participation of actors Geoffrey Rush and Barry Humphries, among others in a profession where any overt political opinion may be dangerous for your career.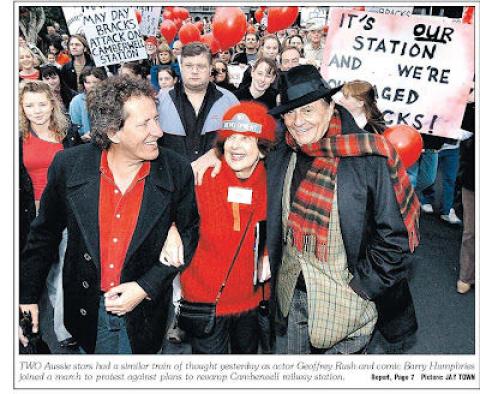 For some time Candobetter had an RSS news-feed to the Marvellous Melbourne website, but for a while, unfortunately it seemed to go the way of so many websites, as fashions and coding changed, and maintenance became more complex and expensive.  Someone has, however, resurrected the site and it is now hosted free by Fluccs cloud servers. That is a real service to Australian history and to crucial ongoing political issues.   A search for Mary Drost at http://www.marvellousmelbourne.org.au/drupal1/ will yield many articles, including newspaper ones. 
Historically, Mary also led citizens' marches in Jakarta against overdevelopment, where she lived for 21 years, and wrote about the later overcrowding with horror, predicting the same for Melbourne. See "Melbourne and Jakarta: While we are on the subject of overcrowding ...".
Skilfully managing to avoid red tape, or being bogged down with committees, she convened multiple protests on the steps of Victoria's Parliament, and elsewhere, generally well-attended by members of whichever party was in opposition. She also held the biggest and most important democratic population debate in Melbourne ever, at the Edge Theatre, where Kelvin Thomson debated Robert Doyle, the then Lord Mayor of Melbourne. There was record attendance, due to the presence of the more than 250 residents' groups under her wing, plus many other groups and members of the public. That this massive event, in the most prominent venue in the city, went almost completely ignored by the mainstream media, is testament to just how threatening it was to the growth lobby, that runs the city and the mainstream press in Australia. It was like ignoring an atomic explosion opposite Flinders Street Station.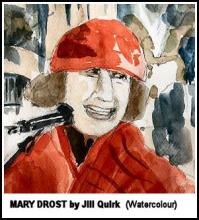 Mary Drost generally got plenty of attention for Planning Backlash from the mainstream press though, because they could not resist covering such an interesting, vital, and colourful convenor, socially well-connected - but no snob - and unafraid to speak her mind. Jill Quirk's portrait of Mary in red, joyfully taking command of a crowd, in front of a microphone, captures Mary's energy and good-humour. As Planning Backlash's Convenor, she has shown herself to be a dynamic leader and a talented politician who has worked for good, outside parliament, whilst keeping a close eye and ear on parliamentary proceedings.
No-one should expect Mary Drost to recede into the shadows, now.  She is too much of a natural political force and a giant personality. She will have a continued presence in Planning Backlash, which has now been renamed, with her approval, "Planning Democracy,"  by Kelvin Thomson, who will be relieving Mary of much of the hard work. We understand that she is writing her autobiography which, considering Mary's circle of friends and contacts in politics and society, over many decades in Marvellous Melbourne and further abroad, promises to be fascinating and possibly explosive.