This is sad and disturbing to watch in the neighbourhood, in Fawkner Park … The extensive works and removal of greenspace and trees, dissects the park, construction there is a bad precedent and contrary to the beloved greenspace views and vistas characteristic of this (previously) grass-based parkland. the construction workers said they are going to concrete "the court and skate park" on Monday.      (B. McNicholas, Director, Walk in St Kilda Rd & Environs)
Reference: The City of Melbourne's Skate Melbourne Plan 2017-2027.  City of Melbourne marks that area in Fawkner Park on its map on page 35, without calling it Fawkner Park and without disclosing its higher status than open space i.e. the fact that it is a parkland on the Victorian Heritage list, including grass-based sports, our Council marking it as a "potential larger skate space".  
When we discovered this and put it to Council a few years ago they said, no they are not going to implement that plan. So, we asked it to be cancelled formally at FMC, (or at least the parts relating to FP and QVM and Edmund Herring Oval) which they said was not necessary and did not do.
So, now, they are constructing a 'skate park' area for skating and scooting right there, where they listed it in the Skate Melbourne Plan!   Such a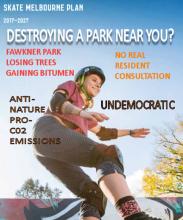 significant re-development and change, and not in the Master Plan.
And in 2020, Parks and City Greening at City of Melbourne, during lockdown, without notice, did extensive re-development works all along the north of Fawkner Park, works not detailed in the Master Plan, including splaying large bitumen entrances, removing grass parkland, when it was not necessary – and no-one was consulted - not even Councillor Rohan Leppert, Chair of the Parks & Gardens committee was aware of the works, and he is also the lead for the Environment and Heritage Portfolios at Council.
This has caused cycling issues, as speeding cyclists see the wider footpaths and curved or splayed wider entrances as an invitation to ride on the pavement and speed downhill from Toorak Road through Fawkner Park!

When you look at it in the context of this Skate Melbourne Plan, it could seem that Council is implementing that Plan, unilaterally, without the community and residents …  ?
Note e.g. on page 23: events programming, business opportunities, ""opportunities like public/private partnerships" …
Systemically, unilaterally, City of Melbourne is just doing what they want in Fawkner Park, without community consultation in forming plans, without doing a Conservation Management Plan and updating the Management Plan FIRST!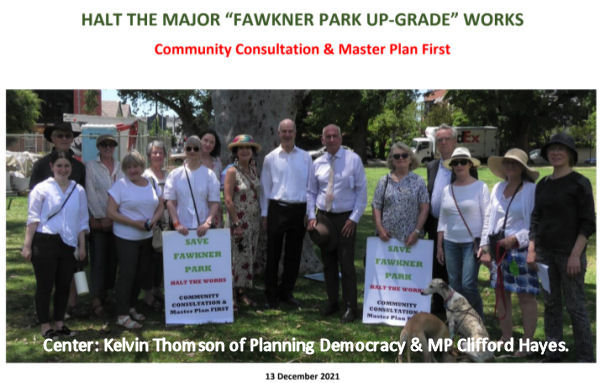 Your assistance and persistence are much-needed.
See attached a letter from Clifford Hayes MP to Ministers D'Ambrosio, Wynne and Leane, requesting a halt to the works and community engagement first.