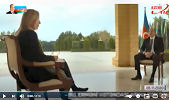 In this video, BBC journalist Orla Guerin interviews Azerbaijan President Aliyev, assuming that Azerbaijan press and politics are heavily censored, and presses him on that. He denies the accusation, then asks her why Julian Assange has been held inhumanely for years, if the British and western press are so free. The BBC journalist simply won't acknowledge the situation for journalists and the media in her own country, kind of proving the president's point. Transcript below, with the pithiest bits emboldened.
Transcript of this excerpt
BBC JOURNALIST: [...] to Armenian civilians.