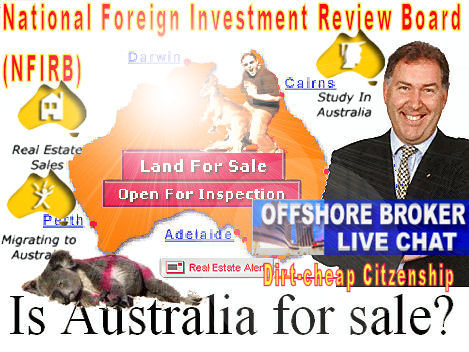 Illustration: collage of icons from housing and immigration industry sites and Steve Vizard who marketed the Bracks Melbourne Population Summit in 2002
Article by Jonathan Page
The laws regarding foreign ownership were relaxed recently,[1] ostensibly to allow temporary visa holders to buy properties at auction which was previously too difficult.
I was quite outraged after piece after piece appeared in the media with real estate agents bragging about Chinese buyers putting down their money over the phone without even seeing the properties, or purchasing several. These agents talk about how the wealthy investors are speculating on our real estate, and even letting the properties sit empty while waiting for their capital increase.
It is confusing to know exactly what is happening as only temporary visa holders are allowed to buy established properties, and then only a principal place of residence. But we hear of some of these people buying several.
I checked on the FIRB website and established that these practices are in contravention of the intentions of the foreign ownership guidelines. Foreign investors are not supposed to speculate, or engage in activity that would lead to housing stock shortage. It seems that Rudd's plan to keep the housing boom going (and possibly satisfy friends in China?!) has gone too far.
I penned a letter and sent it to all house of representatives members. I have had some good responses so I will wait to see with interest if anything happens.
We are losing prosperity when we sell out to wealthy overseas investors that we can't compete with. On top of the loss of prosperity we lose in many other ways with the associated population growth.
Jonathan Page
LINKS & NOTES BY CANDOBETTER EDITOR
Real estate speculation has been made possible on a level never previously conceived of due to the global Internet, through property dot coms like www.realestate.com.au and www.domaine.com.au, but also through very rapidly converging and mushrooming of industries and professions across government and private sector, so that we have, for instance, on the one hand, at the Federal level, the National Foreign Investment Review Board (NFIRB) positively facilitating foreign investment in local real estate and facilitating purchases by temporary immigrants for high turnover, and, on the local level, realtors touting local property internationally with the assistance of privatised migration agents and local solicitors, and at State level (where land use planning is controlled), organizations like the Property Council of Australia (APC), closely involved with determining government policy.
For more on this see "Bad Australian foreign investment laws marginalise Australians" or, for more detail, S.Newman for SPA VIC First Home Affordability Enquiry Submission, pp 16-20.