Should environmental organisations concerned about overpopulation enjoin Australians to have no more than two children each, for the good of the planet? Or, since our average fertility rate is below 2 children per person, should we instead congratulate Australians and ask them to keep it that way?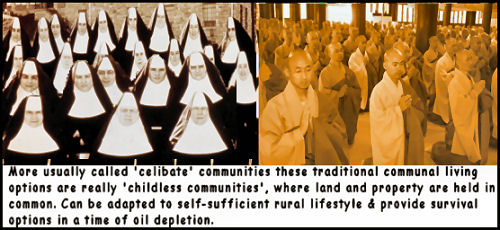 Where the average measure matters most
I have reservations about promoting small families in Australia. It is the average within a society that matters rather than individual cases. It could be off -putting for environmentalists who might already have 3 children but who may have a sister with none.
I think asking people to undertake this would be somewhat arbitrary, unnecessary, simplified and rigid. Given our fertility rate is less than 2 why would we make a point that the fertility rate needs this?

We could just as well campaign for large celibate communities which would also have the effect of reducing fertility.
The way our society is now structured with high housing/land prices, people can't afford large families. I think we should make our vision for the country an attractive one that shows up the nastiness of the regime. Why should we be using this "stick" when governments and big business are using it for us with all the negative effects of ever-rising population – increased regulation, increased cost of land, overcrowding, loss of contact with nature, high power costs, declining wage-gains and workers' conditions etc. etc.)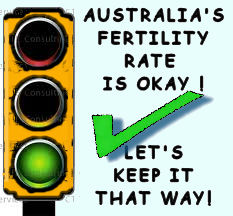 Why don't environmentalists concerned with population growth commend the fertility rate as OK? - but let's keep it that way!
There's a slogan:
Fertility rate is OK. Let's keep it that way! That's positive and affirming - not rigid. It's a carrot- rather than a stick! We can associate it with the good things about our life in Australia. We can present it to immigrants as a way of preserving and caring for the society they have chosen to adopt.
Growth lobby highjacked ideal society and made life hard for all
In reality our freedoms are being taken from us. That is unattractive I can't see that asking people to take pledges on their future will make ecological sustainability and keeping natural environments safe attractive. The post 1970s period could have been fabulous for us without the push for more and more productivity, profits and population growth. The problem articulated in the 70s and the early 80s was, "How will we deal with our leisure in the future of the 3 and 4 day week?" It never happened- but it could have. If this brief glimpse of what was possible had played out with maybe lower productivity, lower impact, lower population growth, less work, greater leisure time, less development we would possibly have had an almost ideal society. This is what we need to latch onto, rather than pledges that would surely cause some cognitive dissonance and that people will not really want to make. This is a sacrifice. Who knows what one's personal future holds? We should emphasize freedom not sacrifice.
Environmentalists need to find more agreement and cooperate in presenting an inspiring vision of what Australia's our future could look like without the growth lobby dominating.
Our fertility rate is OK. Let's keep it that way!
Our immigration rate is too rapid. Let's cap it.