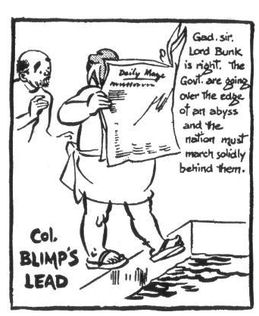 (Illustration: For more on Colonel Blimp see "Notes" [1])
Original title was: "Mr Salt and Mr Murdoch team up again to can Australians". See also: "Bernard Salt and Murdoch press cook up recipe for invasion" of 2 May 09.
Into the Salty abyss
According to yet another article in Mr Murdoch's Australian newspaper by self-styled demographer, Bernard Salt,
Australia "quivered when a passing Japanese submarine lobbed shells into the eastern suburbs of Sydney in May 1942: property prices plummeted."
You can find the article, "Invasion victory ensured by complacency" in the business and property section in The Australian. A sort of where to buy and invade section, I guess. Here Salt advertises Australia as an easy target for any enemies. Pretending that he is writing for a mythical Peoples' Army in Bernardistan, he plots entry via the Kimberleys.