In 2002, Senior Constable McEnally, 26, was shot at Hillsdale in Sydney's east after pursuing four men in a stolen car with four loaded stolen guns. The stolen car was driven riven by Motekiai Taufahema, then 25. The car crashed and Sione Penisini shot Senior Constable McEnallay four times through the windscreen. Penisini had fired five times at Constable McEnallay from 10 metres away. McEnallay died in hospital from head and chest wounds soon afterwards.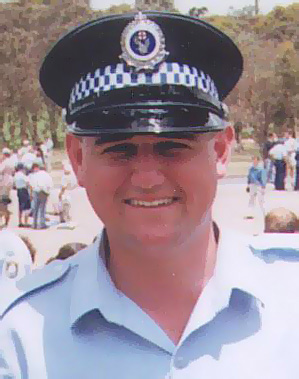 Senior Constable McEnally
Sione Penisini, was sentenced to 36 years for the murder. The judge at the time described the murder as "a cowardly, senseless and unnecessary crime". Motekiai Taufahema, and his brother John, who was also in the stolen car together with two other men with four loaded stolen guns, were initially convicted of murder, but their convictions were overturned and they both pleaded guilty to manslaughter. They received the same sentence. The fourth man, Meli Lagi, is serving 10 years for firearms offences.' All four men are Tongan nationals with criminal records.