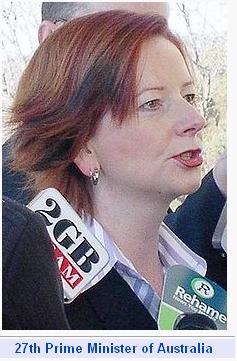 Now that people have finally accepted that gender is and should be irrelevant in politics (at least in civilised societies like Australia) we can get down to the agenda and actions of Acting PM Gillard's new leadership team.
Sensibly new Acting PM Gillard is distinguishing herself from the unpopular agenda priorities and Rudd's unsuccessful arrogant autocratic style. Gillard's professed consultative style and modest tone signal a quick decisive break from Ruddism. Though still early days since Gillard Coup Date 24th June 2010, just four days ago; Gillard has been lightning quick to announce 'refocusing', 'new directions', 'new focal points', 'new initiatives' and 'shutting down some issues' [Digital Journal]...almost as if it has been planned for some time, perhaps?
What was Labor Right up to and for how long?
De-Rudding seems to be a fast way to work the pollsters to gain quick public relations wins, necessary for any new replacement PM. Rudd's major policy defeats most obviously have been his Mining Super Tax impost, his 'Howard-esk' rejection of asylum seekers and his backdown from his Emissions Trading Scheme. Rudd had many election promises and then he had his 2020 Summit with even more obligations.