Media release by Tristan Peach, Greens Candidate for Hamilton Ward
22 February 2008
Labor and Liberal plans to bulldoze a beautiful stand of mature hoop pines and gums at the eastern end of Kalinga Park are unacceptable and unnecessary, says Green Candidate for Hamilton Ward, Tristan Peach.
The trees are a stunning feature of the area, provide shade for park users, habitat for wildlife and are an excellent carbon sink for North Brisbane. The trees are in the section of park next to the intersection of Sandgate Road and the East-West Arterial.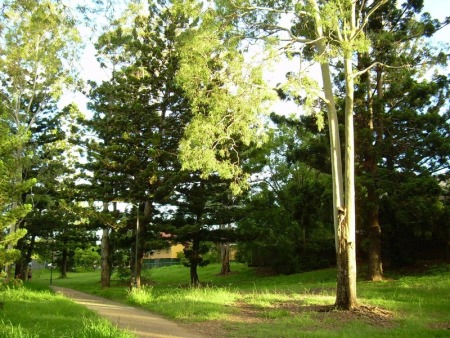 They are to be cleared to make way for a road tunnel that will destroy communities, increase carbon emissions and add to congestion.
Mr Peach has previously organised a petition to save the park and helped write a submission on the Airport Link impact statement, both of which were ignored by Council and the State.
"These trees are part of the area's heritage and are highly valued by the community. I am the only candidate who is working to save them, while the other two candidates support their destruction" said Mr Peach.
"I am promoting a solution for North Brisbane that will address transport issues as well as preserve our valuable natural environment," said Mr Peach.
The Greens' transport plan for North Brisbane includes light rail along Lutwyche/Gympie Road, improved cross-city bus services and better cycling and walking options. It was released in September 2007.
"People in Hamilton Ward have a clear choice: they can vote Green for a cost-effective transport solution that won't destroy the park, or they can vote Liberal/Labor for a transport project that will destroy the park and increase congestion on the East-West Arterial, Stafford Road, Gympie Road, Newmarket Road and various local streets," said Mr Peach.
Kalinga Park is not the only natural area that will suffer – trees and green space along Kedron Brook (behind Kedron State High School) will also be bulldozed to make way for Airport Link.
Contact: Tristan Peach 0416 478 615 hamilton |AT| qld greens org au www.greenupbrisbane.net