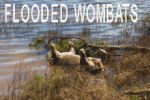 In Murraylands, South Australia, floods have trapped wombats in their warrens for weeks. Wildlife rescuers have been rescuing them and, as they rescue them, the rescued animals have been digging their friends and relatives out alongside the human rescuers.
Wombats are indeed amazing creatures. See also "The strange and unforgivable decline in wombat appreciation in the 20th century."
Natural Disaster
Donations to Wombat Awareness
'Floods are a natural occurrence but when do we draw the line for considering natural selection when disease, starvation and human impact are already desecrating a species?'
Over 20 warrens lie beneath over 800 000 litres of water, WAO and a team of volunteers spent 6 days removing the water to free the trapped wombats!