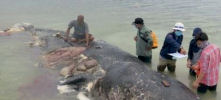 The discovery of a dead 31ft sperm whale with 6kgs of plastic in its stomach off the coast of Indonesia is further indication of the grave future our oceans and aquatic wildlife face as a result of marine plastic pollution. (Boomerang Alliance director Jeff Angel.)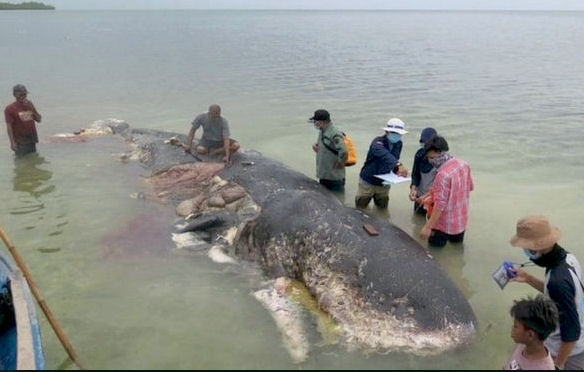 Plastic items found inside the deceased mammal included '115 coffee cups, four plastic bottles, 25 plastic bags and two flip-flops'.
It's not the first death attributed to plastic waste - and it won't be the last. But the quantity of plastic items point to a terrifying 'new normal' confronting our marine environment.
'The sad demise of a sperm whale is another warning about plastic pollution of the oceans,' Boomerang Alliance director Jeff Angel said today.
'No doubt there are many other whales and marine life we don't see dying in the oceans from plastic. We now know we have a serious problem and must act with strong responses from government, business and the community to end this pollution.'