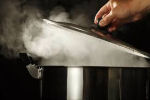 Waleed Aly ("A Rhetorical State of Emergency," Sydney Morning Herald, 12 September 2019,) has dressed up banality as insight and has been very long-winded about it. His focus is climate change and he laments the fact that we have so "engineered a lack of [political] consensus" that Australia is never likely to successfully address it.
But there is a sense that Waleed believes his unique understanding sets him apart from the problems he describes ... I would like to help him find his feet of clay.
That we worry about climate change is because of the harm it is doing and will do to the natural environment; Waleed's focus, therefore, ought to be environmental decline from any cause, and not just climate change.