This threat to clearfell half of Melbourne's street and park trees because they are supposedly "nearing the end of their lives" is an unprecedented threat to Melbourne's heritage. I regard the threat to Melbourne's trees as one of greatest threats to Melbourne and its livability. Plus the revival of the East West Link tollway-in-a-tunnel through the inner suburbs and parks. Can you imagine what this tree clearance of elms and plane trees will do to tourism? And what about living conditions in the city - the "heat island effect" will be extraordinary if half the city's trees are to be removed. Just as they are looking fantastic with recent good rainfall! - Julianne Bell, Protectors of Public Lands Victoria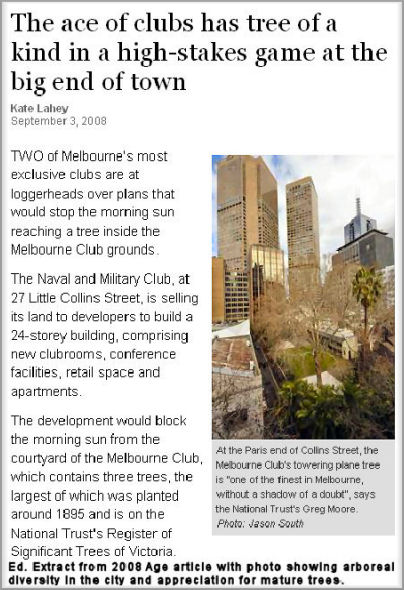 Julianne Bell (of Protectors of Public Lands Inc.) writes:
I appeared at the Future Melbourne Committee on Tuesday last and spoke on the agenda item on the Draft Urban Forest Policy. I was the only person to speak and PPL VIC the only group apparently to make a submission.