See also: Help Save Koalas From Extinction! (9/1/2014) on the Australian Wildlife Protection web site.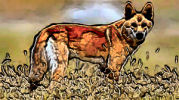 With the destruction of yet another juvenile dingo on Fraser Island, the Australian Wildlife Protection Council (AWPC) and the National Dingo Preservation and Recovery Program (NDPRP) today issued a joint criticism of the Queensland Government for its continuing mismanagement of the Fraser Island dingo population.
The juvenile male dingo was destroyed by Queensland Parks and Wildlife Service staff this week after it allegedly stalked tourists near Eli Creek on the Island and nipped an 11 year old child.