#FFFFFF;">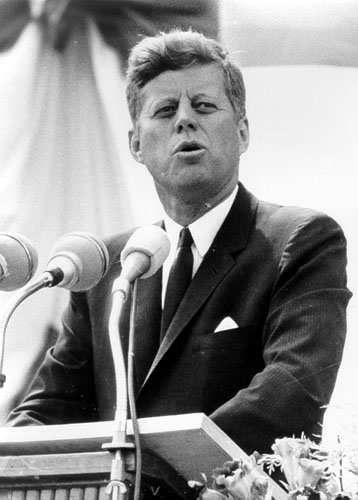 President John F. Kennedy, Arabist and renowned for his support for Algerian Independence struggle
#FFFFFF;">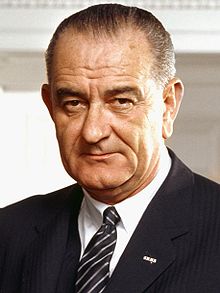 President Johnson, who colluded with Israel in its unsuccessful attempt to sink the USS Liberty and blame Egypt
#F5F3DA;font-size:100%;line-height:120%">
Editorial Introduction:
This article, by Laurent Guyénot, first
published
on
Voltaire Net
on 2 May 2013, covers critically important historical events which commenced with John F. Kennedy's Presidency (1961-1963) and ended with the 6 Day War of 1967. On 8 June 1967, the fourth day of the
Six Day War
, even though the United States was an ally of Israel, Israeli warplanes bombed the intelligence ship, the USS Liberty in the Mediterranean Sea and began strafing sailors in the water
in an attempt to ensure that there were no survivors
. The clear intention was to blame the sinking of the USS Liberty on Egypt and use that as a pretext for the United States to join Israel in its war against Egypt and other Arab nations.
#FFFFFF;height:8px;">
#F5F3DA;">The sinking of the USS Liberty was intended to be a classic
false flag
terrorist attack like
9/11
and in the mould of the
Operation Northwoods
proposal which had been put to former President Kennedy in March 1962 and
rejected
. However, the presence of witnesses on a nearby Soviet warship prevented the Israeli warplanes from finishing their work and foiled Israel's plan to attribute this crime to Egypt. This was done with the active collusion of U.S. President Johnson, who subsequently attempted unsuccessfully to cover it up. A war on a much larger scale -- potentially even an all out nuclear war -- was thus prevented. The criminality of the current President Obama and his Secretary of State John Kerry, who was recently
caught out lying about Syria
, has more than one chilling precedent 
17
in the actions of President Lyndon B. Johnson (LBJ).