#A9F5D0;line-height:120%;">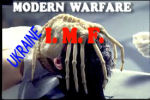 Video interview inside.Western support will allow more IMF and European lending to prop the Ukrainian currency so the Ukrainian oligarchs can move their money safely to British and US banks, explains economist and author, Professor Michael Hudson. '[...] Finance today is war by non-military means. The aim of getting a country in debt is to obtain its economic surplus, ending up with its property. The main property to obtain is that which can produce exports and generate foreign exchange. For Ukraine, this means mainly the Eastern manufacturing and mining companies, which presently are held in the hands of the oligarchs. For foreign investors, the problem is how to transfer these assets and their revenue into foreign hands – in an economy whose international payments are in chronic deficit as a result of the failed post-1991 restructuring. That is where the IMF comes in.'
'[...]Governments are told to balance their budgets by selling off public assets – mainly natural monopolies whose buyers can raise excess prices to extract economic rent. The effect is to turn the economy into a renting "tollbooth economy." Hitherto free public roads are turned into toll roads, and other transportation, water and sewer systems also are privatized. This raises the cost of living, and hence the cost of labor – while overall wage levels are squeezed by the financial austerity that shrinks markets and raises unemployment."
"What is at issue is whether economies throughout the world will let financial leverage dismantle the power of elected governments, and hence of democracy. Governments are sovereign. No government actually needs to pay foreign debts or submit to policies that negate the three definitions of a state: to create its own money, to levy taxes, and to declare war."
(Article by Michael Hudson, first published on Global Research, July 7, 2014.) Original videoed interview by RT's Daniel Bushell (Truthseeker program) was on June 29, 2014.