#F8E0E0;line-height:120%;">

Michael Duffy, Drive By, Allen and Unwin, 2013, reviewed by Katharine Betts. This is Sydney, bulging with criminals, ethnic gangs, new immigrants, dropouts, and wealthy professionals hiding their sorrows.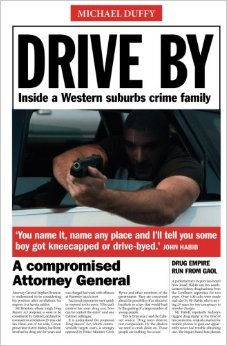 You don't have to live there. But drop in for a while and feel what it is like to belong to a family of Lebanese drug dealers, the Habibs — loving, cashed up, religious, and always on the watch for violence. Best take some tough body guards with you; they do. See the rest of Sydney through their eyes and wonder at the Skips and Jacks: cold dissolute people who go around half dressed, drink alcohol and who don't seem to love their mothers, or respect their sisters. John Habib will take you there.
Or you could spend time with Bec Ralston. Young indigenous policewoman, left alone to cope with far too much responsibility in this dislocated world. There's a body in Gallipoli Park with four bullets in him. He's a dealer and standover man. Works for the rival gang – the Deebs. Is the youngest Habib, sweet cherished Rafiq the killer?
This is not a safe journey. But Michael Duffy makes it irresistible.