#C1FFC1;line-height:90%;">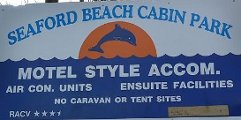 Meeting 27 Nov., 2014, Seaford Community Centre, 6.30 –
8.00 pm
Car parks over Community? Seaford Cabin Park houses marginalised people in around 80 units between Nepean Highway and Kananook Creek. Council plans will see people evicted from 20 of these units and possibly the closure of the entire cabin park. The Cabin Parks sits in part on Crown land which it has leased from the Council for over 20 years. Council now wants to terminate that lease so as to create a car park. This will lead to the loss of around 20 cabins, meaning that the residents of those cabins will be displaced. The loss of the lease may even affect the viability of the entire cabin park, meaning all residents would need to find alternative accommodation.
There is very little 'social housing' available around Frankston and the Mornington Peninsula, yet Council has suggested these people could be relocated to Mornington - in an entirely different community! Assuming that such accommodation can even be found - there or anywhere else. Despite no clear justification for a car park, Council is stubbornly insisting on continuing with the eviction.
As park resident Kevin explains below, the Cabin Park provides its residents with a supportive, caring community, which they may not have the benefit of with other 'social housing' options.

Below is an open letter, which has been sent to Council by the Seaford Community Committee and the St Anne's Parish Social Justice Group (a Seaford based group). These groups have had meetings with Council staff, councillors and the owner of the Cabin park. The letter calls upon Council to leave the Cabin Park intact and instead accept a legal assurance by the owner that the Cabin Park will continue operating for another 10 years (at least). The Community Committee and the St Anne's Social Justice group have also organised a workshop on Homelessness in Frankston and has invited Councillors, including the Mayor, to attend. This invitation is attached below along with the joint policy on social housing for Frankston produced by the two community groups.
---
Mayor Cr Sandra Mayer and Councillors
Frankston City Council
PO Box 490
Frankston Vic 3199
Dear Mayor and Councillors,
Re: Seaford Beach Cabin Park
The St Anne's Parish Social Justice Group and the Seaford Community
Committee have joined to consider local affordable housing and
homelessness in our area.
We are particularly concerned at what we understand to be the Council's
position in regard to the Seaford Beach Cabin Park.
We have organised a public meeting on this issue to which we have
separately invited you, Mayor, to speak, and separately invited all
Councillors to attend. Council staff is of course also very welcome.
The meeting will be held at the Seaford Community Centre, 6.30 –
8.00 pm, on Thursday, 27 November.
We have made every effort to understand the issue, and have had the
benefit of the views of one Councillor and two Council officers who
have generously addressed our meetings.
The conclusions we have reached lead us to strongly believe that it is
time for an all-embracing review of this issue. We are appealing to
Council to take a fresh look at this matter.
The Seaford Beach Cabin Park appears to be well managed, and currently
fills an important need in Frankston for transitional low-cost
housing, especially for lone persons. It also provides emergency
crisis accommodation.
We can see no need at this time to resume the Crown land on which the
park is partly built. This course would lead to removal of 21 to 40
units (depending on present title boundary negotiations with DEPI),
and the eviction of up to 60 residents. This would affect everyone
at the park, and likely jeopardise its ongoing viability. The Cabin Park is an asset to the community, not a liability. Rather
than taking action to close units, we submit that Council should (in
accordance with its Housing Strategy) be doing all it can to work
with the owner, especially as he states that he wishes to continue
this operation.
In our view, for Council to persist with its proposed course would be
very harmful to the cause of addressing homelessness in Frankston.
There appears to be a stark contrast between the provisions of the
Frankston Planning Scheme and the present proposals of the Council in
relation to the Seaford Beach Cabin Park.
We appreciate that Council has a desire to increase beachside car
parking, but there are other well-located potential foreshore
car-parking sites. There appears to be little (if any) demonstrated
need for a car park in this particular location and whatever need
there is, does not compare with the clear and urgent demand for
low-income accommodation. To prioritise a car park at the expense of
vulnerable peoples' homes, in our view, would be incomprehensible
and harsh.
We want Seaford to be a diverse and inclusive community. We do not see
Seaford as a community where all property should be developed for the
top end of the real estate market. For communities to be viable they
need a diversity of housing options to suit the diversity of needs of
people and their families. We do not see gentrification as a
priority of the Seaford community. Our first priority is the
residents of the community, or in the words of the Seaford Local Area
Plan: "build community connectedness".
We respectfully submit the following recommendations for Council's
consideration:
That Frankston Council recognises the valuable contribution of the Seaford
beach Cabin Park, and support its ongoing contribution to affordable
housing in the municipality:
Council should support the retention of the Cabin Park ownership and operation
in its present form;

Even if the land-swap goes ahead, the arrangement in which the Frankston
Council leases the public land to the Cabin Park should continue, so
that the current operation is maintained;

Council should take up the offer by the owner to legally commit to the site
being a cabin park for a minimum 10 years;

Council should not consider resuming the Crown land for any other purpose at
least until such time as it undertakes its Lone Persons Households
Strategy and other substantial measures to address the affordability
and homelessness issues identified in the Frankston Planning Scheme and
the Frankston Housing Strategy.

If Council determines to proceed with the land swap and build a car-park,
it should strongly support the owner in his representations to the DEPI
regarding use (lease or purchase) of the small slice of land that would
be required to save approximately 20 units;
If the Council determines to build a car-park then it should (as it proposes)
engage professionals to undertake a 'closure protocol' to find
appropriate alternative local accommodation for residents, particularly
for families with children at local schools, people who work locally,
and long term residents who identify Seaford as their home.
Accommodation options at caravan parks down the Peninsula should not be
seen as an adequate solution to the housing needs of residents. It
should also set aside any deadline for eviction to ensure that
residents are given the best possible opportunity to find appropriate
alternative accommodation.
We look forward to your response and to future correspondence with
Council regarding affordable housing.
Please do not hesitate to contact us should you require further information
concerning this issue.
Yours sincerely, On behalf of the joint Working Group on "Homelessness"



David Moloney, Chairman,

St Anne's Parish Social Justice Group

Noel M Tudball B.Bus, Chairman,

Seaford Community Committee
(NB Image of cabin park sign derived from one taken by Derrick den Hollander. Reused without permission.