We publish here correspondence with Frankston Council over residents' objections to unilateral replacement for bluestone toilet blocks with inferior and costly new ones. The bluestone bricks were not recycled within the council and it is not yet known where they have gone or who may have finished up with them. This toilet inquiry by locals has shown its use in focusing on a small but important unit and asking simple questions, which may yet educate a public more or less overwhelmed by the scale of the ongoing dismantling of Melbourne. The photographs show how well the toilet unit fits into the natural environment, because of the use of natural, almost unprocessed, materials.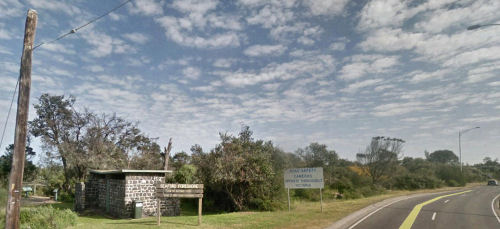 Questions sent to the Councilors about reasons for replacement of these toilet blocks
On Tue, May 22, 2018 at 9:12 PM, Matthew Mitchell wrote:
Dear Councillors,
Can you please provide a justification for replacing the blue stone toilet blocks on Seaford foreshore and advise what action is being taken to review this decision ASAP - as I have raised this issue now several times with you and your officers, and not one Councillor has responded.
Following are the reasons why this decision needs review - in short the official justification does not make sense, the new toilet so far suffers the following deficiencies:
1. There is no space to get changed. I use the current toilet blocks so my kids and I can get changed and wash up. The new blocks only allow one person to fit at a time.
2. They are a shared facility - i.e no urinals for the men, the floor and seat etc in such toilets end up covered in urine. The old toilets have proven in this and other ways to be cleaner than the new ones. I have NEVER seen the old ones dirty or full or rubbish like the new one are (over 18 years).
3. The new toilets are frequently locked. People have been checking this. The existing toilets are never locked. Is this a new model for Frankston? Toilets that are locked and therefore cannot be relied on, and thus not really of much use?
4. The argument about graffiti does not stack up to evidence - the bluestone toilet block at the end of Armstrongs has hardly any graffiti, so clearly they are not being graffitied or it can be cleaned off.
5. The new toilet blocks detract from the natural environment of the foreshore, they are overly high, garish in colour and design and not appropriate for this location.
6. The blue stone toilet blocks have historical value.
7. The argument that there should be a 'universal design language' suggest a standard design regardless of appropriateness to environment and context. When was the decision make to 'standardise' all the buildings in Frankston along these lines? Can you provide evidence and records of community consultation on the need for a 'universal design language' or was that not a democratic decision, but rather one made by Council officers?
8. I suggest that there are now sufficient facilities for disabled access in terms of toilets. In any case, the disabled toilet has been to my experience - and that of others - constantly locked, so is of little use in that respect.
9. We are in a period of global warming - replacing perfectly good and durable infrastructure unnecessarily is an irresponsible use of resources, and one the features of our unsustainable society that needs to change.
10. Frankston has many poor residents for which purposes money can be better spent than replacing perfectly good infrastructure rather than maintaining what is there.
This issue is clearly of interest to the community, as since I published an article on this the middle of last month, well over 3000 people have read it, and there has also been much discussion on facebook around this issue.
In short, can you please advise on what processes you are following to have this decision reviewed?
Looking forward to your prompt reply,
Regards,
Matthew Mitchell
Councilor Response
Sent: Tuesday, 22 May 2018, 11:38:36 pm AEST
Subject: Re: Answer on decisions to replace bluestone Toilet blocks
As for the other comments - I find the bluestone toilets to be, frankly, repugnant. For many reasons, many people associate the outdated bluestone model with substandard design. I personally have no interest in retaining the bluestone toilets; and I will not be pushing internally for a reversal on this approach.
I will get back to you on hours of operation re: toilets
Kris