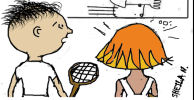 Recently the Serbian President Aleksander Vucic accused Australian Prime Minister Scott Morrison of a "political witch hunt" and of harassing the world's best tennis player. 
Novak Djokovic's parents also slammed this decision to refuse their son's entry into Victoria for the Australian Tennis Open.
His mother claimed the anti-vaxxer and her multi-millionaire son was being wrongly detained in an immigration detention hotel with bugs and poor food.