Information from the West of Elgar Group (WERA) shows what could happen in your street. So keep alert just in case. The developer is an overseas company and the development is being advertised overseas. The size of some of the units indicates they may only be of interest to the overseas student market. In Surrey Hills, close to Wattle Park tram terminus, and far from shops, developers are buying cheaper land in our local streets. VCAT has just approved an application by an overseas consortium for 32 apartments in such a street. Three development applications for this site have been knocked back. This one breaks rules set for the others. Where is the sense or the justice in this?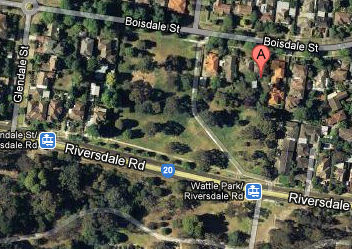 28-34 Boisdale Street Surrey Hills
Local residents have spent an immense amount of time and effort since 2009 in an attempt to preserve the character and amenity of their neighbourhood.
The planning void left after the Brumby Government's Melbourne 2030 disappeared has yet to be replaced with a clear planning policy by this State Government. As a result , out here in Surrey Hills, not far from the Wattle Park tram terminus, and not near any shops, developers are buying cheaper land in our local streets.
VCAT has just approved an application by an overseas consortium - the Ever Bright Group - for 32 apartments in such a street. (The neighbourhood consists mostly of houses, plus occasional units and town houses.)
Previous applications knocked back; how is this one better?
The first application [2009-10] was refused by both Whitehorse Council and VCAT.
The second application had much the same footprint, and in fact, the number of units was INCREASED from 27 to 32.
Whitehorse Council again refused this application outright as it failed over 14 sections of the Whitehorse Planning Scheme and it was contrary to the neighbourhood character objectives and standards of the scheme
Despite this, and the fact that the site is nowhere near an activity centre, and over the objections of 150 local residents, VCAT approved this application .
In order to set aside the Whitehorse Council's decision, the tribunal became a de facto Planning Authority - inserting a number of conditions including structural deletions, alterations to the ramp and garage, and alteration of the footprint of some 2800mm.-this will require yet another re-drawing of the plans#. In addition it allowed some of the factors which the previous tribunal had rejected!
# In effect, the resulting plan will be different from that originally put to the Council, and they will have no say in it!
Dark towers
Further, the proposed building is no architect's delight. Most of the units will be very small (some only the size of a double garage- 55 sq m) and a fair percentage will never receive any direct sunlight (as they are entirely south facing) nor will the building's limited communal open space receive any sunlight after the equinox.
This result has been bad enough, but now there is an application for over 40 units in another short street nearby. Already there are cars parked overnight in both streets.
All this can still occur because the planning community is in "No-man's-land", where M2030 is no longer valid, but a definite new planning policy has yet to be pronounced.
No activity centers here yet big appartment blocks planned
This means that despite the fact that Matthew Guy has stated repeatedly that higher density developments should be "limited to activity centres", developers are still able to use local streets to take advantage of the planning void.
We desperately need a co-ordinated planning system, not just these ad hoc decisions.
Community and developers need to have certainty.
Surely by this time we could expect better outcomes for the community from our current State Government.
Source: Elizabeth Meredith
West of Elgar Residents' Association Inc.
W E R A
A.N.:A0031410U