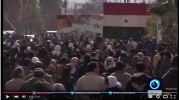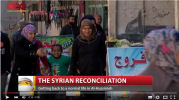 Videos inside: These films are dated 21 January 2016. They show successful attempts by the Syrian government to make Syria safe again. The government has been able to reconcile with 'rebel groups' that recognise that war is tearing their country apart. Refugee activists please take note. Nearly the biggest problem that Syrians continue to face is the refusal by US-NATO and its allies, such as Australia, to recognise that we must all work with the Syrian Government to make Syria safe. Because of these evil US-NATO policies, it is most unlikely that these positive developments will be promoted in the Australian media, if they are transmitted at all. So, please send these films round to everyone you know, to help end this war and place pressure on western governments to stop intervening.
Getting back to a normal life in Al-Hussinieh
Getting back to a normal life in Al-Hussinieh
Al-Hussinieh was the first quarter in Damascus and its countryside to witness a reconciliation which allowed its residents to return and live there.