Right now the UK is politically divided on whether or not to leave the European Union and the mood in many quarters is ugly. It seems that there is a very strong chance that the forthcoming Brexit referendum could swing in favour of the Leave vote, something that seemed unimaginable a few years ago. The main reason for most people wanting to leave is because they are concerned with the UK's rapid rate of population growth. This article is by Michael Bayliss (President of Sustainable Population Australia Victoria and Tasmania Branch) and Mark Allen (Population, Permaculture and Planning)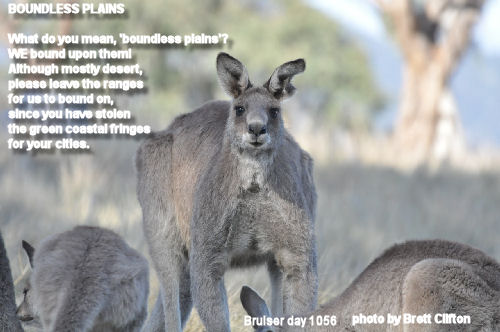 A proportion of the blame can be placed on those who have a narrow vision of what it is to be British in the 21st century and who are often misled by those parts of the media that take a more sensationalist approach.
However, the left also need to bear some of the responsibility because they have for far too long placed the topic of population in the politically incorrect basket. With net migration last year coming in at 300,000, people have a right to be concerned, especially when there is no end point to this rate of growth in sight. What is all the more concerning is that the refusal by many on the left to engage on this important issue has allowed the right to exploit this to their advantage by peddling all kinds of fear and untruths. Sadly it appears to be working.
So what lessons are there to be learned here in Australia? There is a parallel because we too are experiencing rapid population growth with net immigration in 2015 at 168 000, so the impact here is larger on a per capita basis.
While it may appear that this would be tempered somewhat by the sheer size of the Australian landmass, this population growth is centered mainly around the Melbourne, Sydney and Brisbane conurbations. Until there are jobs, infrastructure and the political will, our boundless plains will continue to be just that. Considering that these plains are mostly desert and rangeland, there is an argument that they are mostly not suitable for new urban settlement anyway, so the focus is very much on our narrow strip of green along the Eastern seaboard. To put this in perspective, the populations of Sydney and Melbourne are growing by 1600 and 1760 a week respectively and people are beginning to feel it.
Meanwhile the government (and just about everyone else) are currently doing a good job of keeping our high rate of immigration away from the public radar. Instead we keep reinforcing the association in the minds of many people of migration with refugees. As John Howard famously promoted this very misunderstanding when he said on the radio 2014:
"One of the reasons why it's so important to maintain that policy is that the more people think our borders are being controlled, the more supportive they are in the long term of high levels of immigration...And one of the ways that you maintain public support for that is to communicate to the Australian people a capacity to control our borders and to decide who and what people and when come to this country."
However, the wool cannot be pulled over our eyes forever as the negative consequences of population growth only keep intensifying. Eventually more and more people will join the dots and it is then that we face the threat of the fear- mongering far right taking a foothold.
Do we really have to wait until then? If we engage in sensible rational discourse now about what constitutes a sustainable rate of growth we can avoid all of this. This means that the left have to come to the table. If the issue continues to be ignored we could end up with a situation similar to what is going on in the United Kingdom and it will leave the topic in the hands of those who feed off fear and hate.
This issue is only going to get bigger as Australia's population continues to grow by a new Adelaide approximately every three years. People of compassion need to be the ones who set the tone for the conversations that will ultimately come. If the compassionate fail in this responsibility, they will create a void where people with bigoted views will take centre stage.
Australia is a multicultural country with a proud tradition of supporting refugees and this needs to be the central message on the left. We do not need to be an apologist for the rapid population growth that is being used to justify an economic ponzi scheme.
It is time to put left and right ideologies aside and focus thoughtfully on delivering the most equitable and compassionate outcomes for all people and the earth as a whole. How rapidly we grow our population and how we distribute that population should be part of that discussion.
The views in this article do not necessarily correspond with the views of Sustainable Population Australia